The Gardens at Hampton

The Hampton gardens are in bloom. Come see and stroll through the historic gardens from 8:30 am to 5 pm daily.
New Tour Hours

Beginning on Thursday, March 13, 2014, Hampton's mansion and farm buildings will be open for tours from 10 am - 4 pm, Thursday - Sunday.
Vistior Contact Station Update-Construction Advisory

Phase III will continue as designed and this is the longest phase of the project. The Entrance Road and Parking Area will be defined. PARKING IS VERY LIMITED AND BUSES ARE PROHIBITED FROM THE MANSION'S PARKING LOT AND PARKING ANYWHERE ON THE SITE. More »
Directions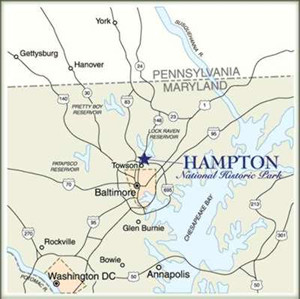 NPS
BY CAR: Hampton is easy to get to because it's close to three interstate highways--routes 695, 70, and 95. From the Baltimore Beltway (I 695) eastbound or westbound: Take Exit 27B, Dulaney Valley Road northbound. Take the first right turn onto Hampton Lane. The park will be on your right, about one mile from the intersection.
Hampton National Historic Site
535 Hampton Lane
Towson, MD 21286
PUBLIC TRANSPORTATION: Bus #11 stops at Goucher College, less than one mile from Hampton. The Light Rail stop at Lutherville is approximately three miles from Hampton. From either stop, we recommend that you do not walk to the park because there are no sidewalks. We suggest that you use a taxi.
HIGH-TECH DIRECTIONS: Want to follow your GPS receiver to our front door? Plug in one of these sets of numbers:
Latitude/Longitude:

N 39 degrees 24.987minutes W 076 degrees 35.267minutes
UTM: Grid

18 S 0363318 / 4364194


Did You Know?

The impressive Cedar-of-Lebanon that in the center of the south lawn was, according to family legend, brought back from Europe in a shoe box.