Operating Hours & Seasons
We prioritize school group visits on Wednesdays, Thursdays and Friday in a 1hr block between the hours of 10:00am and 12:00pm. Please contact us before you visit because our schedules are subject to change.
Hamilton Grange National Memorial is open to the public Wednesday through Sunday year-round, except on Thanksgiving Day and Christmas Day.
The visitor center (bookstore, exhibits, restrooms) will be open from 9 a.m. to 5 p.m.
Visitation to the historically furnished floor is limited to a maximum of 15 people at a time.
Visitors have two options for visiting the historically furnished rooms.
The first is a Ranger-guided tour and talk scheduled for 10 a.m., 11 am.,1 p.m., 2 p.m. and 4 p.m.
The second is a relatively self-guided experience where visitors will be able to view the rooms at their own pace with a Park Ranger nearby to answer
questions. The self guided experience is scheduled for two 1-hour periods, 12-1p.m. and 3-4 p.m.
Please note: During the open-house period the historically furnished floor can only be visited with a ranger chaperone.
For information about scheduling weekday (Wednesday-Friday) class visits, please click here.
The surrounding grounds are part of the Hamilton Grange experience and maintain the same operating hours.


Did You Know?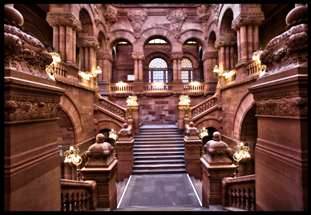 Alexander's face, along with 77 others, is carved into the "Million Dollar Staircase," a famous staircase located in the New York State Capitol.