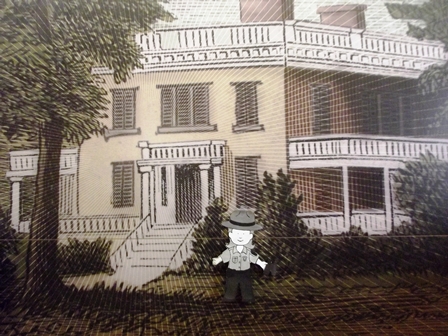 David Underwood nps
Calling all Flat People!
Flat Stanley by Jeff Brown is the story of a boy who is flattened by a bulletin board. Because he is flat, he can travel by mail (which costs a lot less than traveling by plane or car).
Like Flat Stanley, Flat Rangers travel across the country by mail. They visit America's National Parks and send home pictures and information about all the places they see.
Are you looking for a great destination to send your Flat Ranger? Then look no further than Alexander Hamilton National Memorial (The Grange). Our Rangers will share the history that makes Alexander Hamilton National Memorial so special with your Flat Ranger.
By sending Flat Ranger to the Grange your little friend will get the VIP treatment while exploring Alexander Hamilton's summer home.
A Ranger will be Flat Ranger's personal guide during the visit. The highlights of the trip will be a visit into Hamilton's dining room, pallor and private study. Flat Ranger will also visit other areas around Hamilton's home. You will get photographs of Flat Ranger's visit and information about Alexander Hamilton National Memorial.
Start Your Adventure:
· Make a Flat Ranger;
You can download our Flat Ranger Girl 1 (pdf, 196KB), Flat Ranger Boy 1 (pdf, 200KB) Flat Ranger Girl 2, Flat Ranger Boy 2, or draw your own.
· Decorate your flat friend any way you want. Don't forget to name your Flat Ranger.

· Mail Flat Ranger with your name and address to:
Hamilton Grange National Memorial
Flat Ranger
414 West 141st Street
New York, New York, 10031
(If your Flat Ranger needs to be home by a certain date, let us know)