Things To Do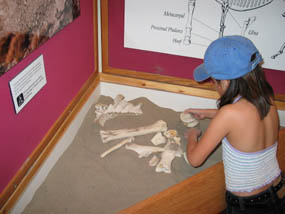 NPS Photo
While visiting Hagerman Fossil Beds be sure to spend some time exploring the Visitor Center, located in town on Rt. 30 across from the high school. You can watch our informational DVD, dig like a paleontologist, examine fossil replicas, and marvel at our fossil displays.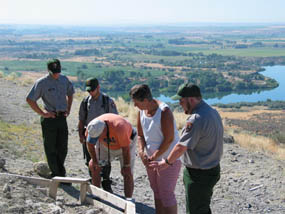 NPS Photo
Seasonal ranger programs allows visitors to get up close to the fossils and learn about the amazing history behind the Hagerman Fossil Beds. Check our
Schedule of Events
for the latest offerings.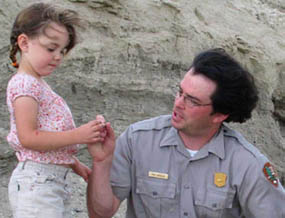 NPS Photo
You are never too young to be captivated by fossils. Our Ranger led programs allow people of all ages to explore the wonderful world of fossils. Who knows what the benefits will be?


Did You Know?

An in situ specimen of Clemmys owyheensis (pond turtle) was found out in the Monument. The field crew also found a jaw with several teeth from Thomomys gidleyi (pocket gopher) and a jaw from Trigonictis idahoensis (grison from the weasel family).