New Operating Hours Effective October 6, 2013

Beginning October 6, 2013 the Battlefield Visitor Center will be open 8:30 am-5:00 pm Tuesday-Saturday. The facility will be closed on Sundays, Mondays and all federal holidays with the exception of Memorial Day, Independence Day and Veterans' Day.
Plan Your Visit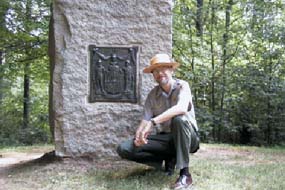 NPS
SUPERINTENDENTS MESSAGE
Thank you for planning a visit to the historic and important Revolutionary War battlefield of Guilford Courthouse. You may not know that this battlefield park, created in 1917, is actually the first revolutionary war battlefield in the United States protected by the Federal government.
Our mission is: To study, interpret and commemorate the battle; preserve and protect the battlefield and its landscape, monuments and graves that memorialize people and events associated with this battle and the United State's struggle for independence.
Please take time to explore our website prior to your visit here. When you do arrive at the park for your visit, explore our exhibit area in the Visitor Center and take a look at our films presented hourly and study our brochure. You may even be able to participate in one of our ranger guided programs or make a purchase in our book store.
We hope your visit is, enjoyable, and educational. Our park staff works hard to fulfill our mission and honor those who sacrificed so much for us. As you tour the park we hope you will gain greater understanding of this battle and the American Revolution. Please feel free to approach any employee at any time to ask questions or express concerns. We love it when visitors show a real interest in learning about the park and the battle in depth. This is your battlefield, our shared heritage preserved for present and future generations. Experience it with us!

Did You Know?

The two North Carolina signers of the Declaration of Independence buried at Guilford Courthouse NMP are William Hooper and John Penn, whose remains were re-interred in the park in the 1890's.