Park Campground and Medano Pass Road Closed for Winter

The Pinon Flats Campground and Medano Pass Primitive Road are closed for the winter season. More »
Main Park Phone Lines Down

A snowstorm on March 2 knocked out the main phone lines to the Visitor Center and primary park numbers (719-378-6300, 719-378-6395, 719-378-6399). Individual staff lines are still functional. Please call 719-378-6343 to reach the Visitor Center.
Photography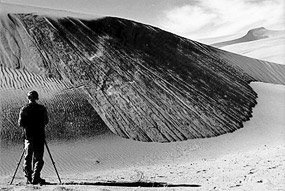 NPS/Patrick Myers
Great Sand Dunes' printable Photography Brochure (.pdf, 2mb) provides guidance on times, seasons, and locations for photography in this unique national park.

Jim Sidinger
The Artist in Residence Program at Great Sand Dunes offers visual artists an opportunity to stay in the park for two weeks to develop their art and present a public program.
Did You Know?

Ute, Apache, and other tribes peeled bark from pine trees for food and medicine. Over 100 of these culturally peeled trees are still living in Great Sand Dunes National Park and Preserve. More...