Photos & Multimedia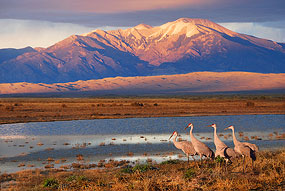 NPS/Patrick Myers
View the the most recent photos of the park on our Flickr page. These photos are available in a variety of sizes on Flickr, and are free to download and use as public domain images. If you need higher resolution .tif files of any of these photos, please contact our media coordinator at 719-378-6343, or send an email.
See the photo gallery below for over 50 photos of various aspects of the park and preserve, most taken within the past five years. These are very high resolution 300dpi .jpg photos, and may be downloaded directly from the gallery. Maximum-resolution .tif versions of most images on this website, as well as many other images of the park and preserve are available by request. All NPS images may be used for any private, public, or press use. Please credit "NPS Photo". Contact our media coordinator at 719-378-6343, or send an email with specifics on your image needs.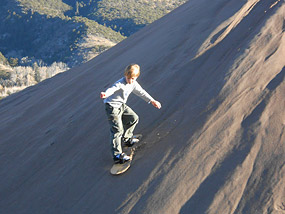 NPS/Patrick Myers
Featured Video Podcast:
Sandboarding and Sand Sledding at Great Sand Dunes
Learn how to sand sled and sandboard in this fun 2-minute video with music on YouTube. National Park Service, 2013.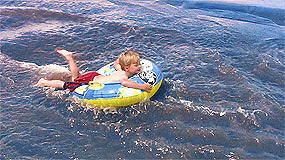 NPS/Patrick Myers
Medano Creek Podcast - This short National Park Service video on YouTube reveals the creek's uniqueness and attraction for people of all ages! 2010.
Length: 1 minute and 45 seconds.

Did You Know?

The Ladies' PEO organization led the original effort to make Great Sand Dunes a national monument in 1932. Pictured at left is Myrtle Woods, a member of PEO at that time. More...