Voice Mail Not in Service

Voice Mail at the park is currently out of service. Please call the Visitor Center at 719-378-6395 between 9:00-5:00 MST to reach a staff member.
Discover Great Sand Dunes With Students
Watch students come alive when they dive into the fascinating stories of Great Sand Dunes National Park and Preserve! Whether you visit in person or from afar, whether you explore the science of supervolcanoes or tiger beetles, whether you capture the curve of a sand dune or the spark of civic engagement, there is always something new and exciting to learn.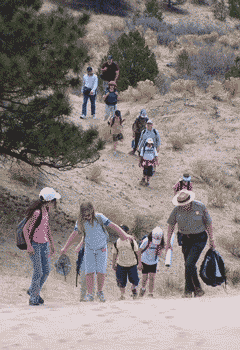 We offer:
For more information, email or call 719-378-6341.
Features
Guest Speakers

Are you within 60 miles of Great Sand Dunes? We offer your students hands-on learning in your classroom. Available September - December.

Read More

Field Trips with Students

Bring your students to the park and watch learning come alive! Schedule a ranger-guided program or experience the park on your own.

Read More

Online Lesson Plans

Elementary lesson plans are in both Spanish and English. Middle school lessons are web-based. High school "Town Hall" lesson spans multiple days.

Read More