In 2015, we will provide programs 7 days a week through three program schedules.
In addition to the programs listed below, The Trust for Governors Island hosts a wide array of events, activities, and exhibitions on the island. Please visit their website,
www.govisland.com
, for more information.
All programs listed below are free of charge. Programming is subject to change; Check back often!
Tenative May 23-June 15, 2015 Program Schedule
·Explore Castle Williams Courtyard open 10 AM until 4:30 PM ( Tours hourly from 11:30 AM till 3:30 PM. About 30 minutes. Get some history in the round at the best-preserved circular fortification in the nation. On weekends we close the Castle at 5:30 PM.
·Experience Fort Jay: An Island Star! Tours at 11:30, 1:30 and 3:30 PM. About 30 minutes. Fortify your mind! Tour one of the best examples of classic star-shaped fort design anywhere in the country, including the oldest structure on the island. On weekends we add a 12:30 PM and 2:30 PM tour.
·Kid's Program Comming later in June. Limit 20.participants. will dress in uniform, drill and set up tents like soldiers on Governors Island.
·Hike Through History 2:30 PM at Soissons Dock. About 90 minutes. See the whole history of the island in one go. Our most comprehensive program takes you to nearly every highlight in the historic district. No tickets or reservations required. Visitors should be prepared to stand for a full 90 minutes and walk a distance of about 1.5 miles.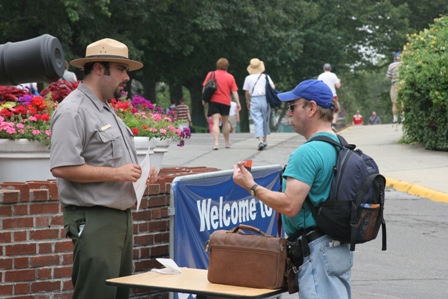 Daniel C. Krebs