In 2015, we will open facilities and provide programs 7 days a week.
In addition to the programs listed below, The Trust for Governors Island hosts a wide array of events, activities, and exhibitions on the island. Please visit their website,
www.govisland.com
, for more information.
Program Schedule through September 27
All programs listed below are free of charge. Programming is subject to change. Check back often!
The bookstore will be closed Monday–Friday. It will be open 10 AM to 4:30 PM on weekends. A satellite bookstore is open at Castle Williams daily from 10 AM to 4:30 PM. Passport stamps and Junior Ranger booklets are available at Castle Williams. The only tours available on weekdays are at Castle Williams.
Explore Castle Williams—Get up close and personal with the best preserved and very first American circular fortification ever built. Go to the roof, see the Statue of Liberty, and learn what made this place the Alcatraz of the East! Courtyard open 10 AM to 4:30 PM. 30 minute tours leave on the half-hour from 11:30 AM to 3:30 PM, with an extra tour at 4:30 PM on weekends.
Get a Junior Ranger Badge—Young Rangers-in-Training can do kid-specific activities and get their very own Junior Ranger Badge. Pick up a Junior Ranger booklet at our bookstore or at Castle Williams. When you're done, return the packet to either of those locations and be recognized for your great work! There is also a Kid's Kart located in the Castle Williams courtyard from 10 AM to 4:30 PM every day.
Experience Fort Jay: An Island Star—At the top of the island sits a fortification that has seen nearly as many uses as it has years of completion! From war fort to music school to housing Confederate prisoners of war, to family housing, Fort Jay is the real star of the show! We say that because from the air, it is shaped like a star! Fort is open daily from 10 AM to 4:30 PM. Tours: 30 min tours leave at 11:30 AM, 12:30 PM, 1:30 PM, and 2:30 PM on weekends. Meet us at the moat bridge to Fort Jay.
Hike Through History—The tour for those that want it all! Our most comprehensive program takes you to early every highlight in the historic district. No tickets or reservations required. Be prepared to walk 1.5 miles over 90 minutes. Weekends at 2:30 PM. Leaves from Soissons Landing. Weekend morning tours also available the first, second, and fourth Saturday of the month at 12:30 PM, as available. Please inquire in the bookstore or ask a Ranger!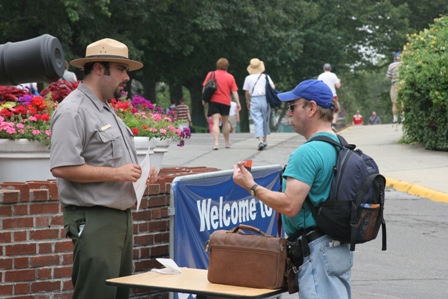 Daniel C. Krebs