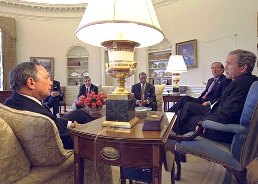 White House / Tina Hager
Regulations and Rules for Governors Island National Monument
Each unit of the national park system is managed by a basic set of laws and regulations. To allow for the protection of visitors and the places they visit, each national park area has more specific rules to meet their conditions and circumstances. Here are those rules for the Governors Island National Monument:
2015 Superintendent's Compendium
Firearms in National Parks
The law governing possession of firearms inside a national park changed on February 22, 2010. Visitors may possess firearms within a national park unit provided they comply with federal, state, and local laws. The role of the responsible gun owner is to know and obey the federal, state, and local laws appropriate to the park they are visiting. Please remember that federal law prohibits firearms in certain park facilities and buildings. These places are marked with signs at public entrances.
New York City and New York State Firearms Information
Handgun possession in New York State is strictly limited. Only those individuals who hold a license issued by a jurisdiction (county or major city) may purchase, possess or carry a handgun. Long guns may be possessed outside of New York City without a permit, but a permit is required to possess a long gun within New York City.
Open Carry: No.
Concealed Carry: Yes, with permit (see above).
New York City: Must have separate NYC permit to carry a handgun or possess a long gun in New York City.
Reciprocity with other cities, states or jurisdictions: None.
Transporting in Vehicle - Handgun: Must have a permit.
Transporting in Vehicle - Long Gun: Must be unloaded.
Relevant New York State Weapons Statutes
Penal Law Section P3TPA265
Penal Law Section 400 Environmental Conservation Law Section 11-0931
Links
Other Firearms Considerations
The Trust for Govenrors Island does not allow firearms on Governors Island or on any ferryboats is operates or contracts for service. For more information, call them at 212.440.2200.