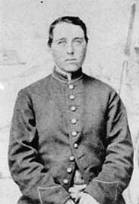 Jennie Hodgers masqueraded as Albert D.J. Cashier. She was the shortest soldier in the 95th Illinois Infantry, but she was able to keep up with the men of her unit. By the First World War, women could serve a bit more openly in uniform.
Over 30,000 American women served in the U.S. Military's nursing units in W.W. I. They were also drivers who decrypted and translated valuable information. The Army Signal Corps also recruited women for overseas duty as "Hello Girls." These women were bilingual telephone switchboard operators.
By the Second World War, women, for the first time, became enlisted soldiers and officers in the U.S. Military.
The Women's Auxiliary Army Corps (WAAC) was created in 1942. A year later, Congress, impressed by the professionalism and dedication of the WAAC, permitted women to enlist as soldiers in the Women's Army Corps (WAC).