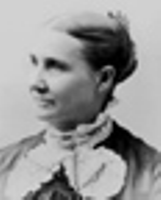 NPS/Fort Davis National Historic Site
Women who followed the army endured both boredom and danger. They had no particular duties because soldiers and servants cared for the household needs including childcare. Also absent was a social life outside the post, and an economic role in the community. They had to be ready to move to a new post or give up their home to a newly arrived senior officer's family at very short notice.
Boredom was broken by intense periods of worry when the regiment was on campaign and danger when hostile Native Americans attacked the post. On those occasions, women and children were ordered to their homes, and one officer was given the difficult duty of shooting them if the post was overrun and in danger of being taken captive. This extreme measure was never necessary.
Officer's wives had no official position according to Army regulations. Women created their own closed society on Army posts, bonding across rank and class to aid a woman in childbirth, or to organize some brief and irregular schooling for the post's children. Otherwise, society and official duties overlapped and rank prevailed among wives as among officers and enlisted men. Each woman had to make her own decisions about whether or not to live at the post, travel with her husband, or return to her parents house to see to her children's education.
If a wife stayed, her husband's career became her own. This choice was easily justified in light of the nineteenth century concept of True Womanhood, which applauded subordinate and pious women. They supported their husband's careers through social networks and attending to his personal and social needs. She had a vital public role that was often mutually beneficial and many wives wrote of "our promotion."
Army life wasn't all duty and hardship however. Officer's wives had servants (often enlisted men called "strikers"), fine horses, and military escorts when rode or walked off post. When not engaged in military affairs, couples and single officers attended "hops" and balls, hunts, picnics, card parties or masquerades several times a week. During the last three decades of the nineteenth century on the frontier, army women and children continued to share the isolation, hardship and fears of army life. The women brought amenities to an otherwise unbearably bleak barren life, while children provided a poignant mix of pleasure and worry. These army wives were very much part of frontier army life that disappeared so rapidly hat it made many conscious that they played a role in army history.