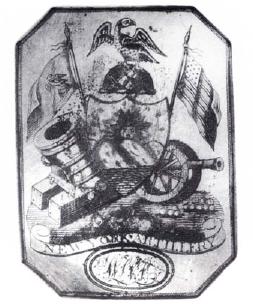 Michael J. O'Donnell and J. Duncan Campbell
The sculpture appears to draw many of its elements from a shoulder plate worn by some New York State artillerymen at the turn of the 19th century. Fort Jay was owned and operated by New York State and its militia, rather than the Federal government in its earliest days, which explains the connection. The shield the eagle holds shows a sun rising over three mountains, still a symbol of New York State that is visible in the state's modern Great Seal.
Because of the fragile sandstone used in the work, the sculpture has not always looked precisely as it does today. The earliest known photograph of the sculpture, taken in 1864, shows both of the eagle's wings missing, as well as one of the flags. It is unknown whether these elements fell off between the sculpture's construction and the date of the photograph, or whether they were simply never completed. A photograph taken in 1913 is the first to show the statue after significant work had been done, adding two wings to the eagle and completing the four flags behind it.