Non-renewable energy resources are those that cannot be replenished in a short period of time and include coal, gasoline, and natural gas. Renewable energy is harnessed from resources that are naturally and continually replenished, such as wind, sunlight, waves, and geothermal heat. Golden Gate National Recreation Area relies on renewable energy to decrease its dependence on non-renewable resources. There are several renewable energy projects within the park that support this goal.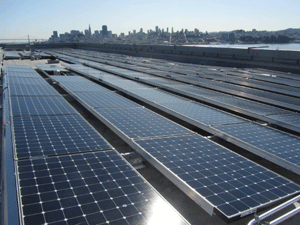 NPS Photo
Most of the park's renewable energy is harnessed from the sun. In late 2011, a photovoltaic system was installed on the roof of the park headquarters building at Fort Mason. As of March 16th, 2015, the system has generated 85 mega watt hours of electricity. That is the same amount of electricity needed to power 5 houses for an entire year. At
Alcatraz
, photovoltaic panels also contribute over 44% of the island's energy demand and have allowed the park to offset CO
2
emissions by 325 Metric Tons of CO
2
equivalent through the reduced usage of diesel generators. Additionally, the
Lands End Lookout
and
Crissy Field Center
both use photovoltaic panels to generate some of their electricity.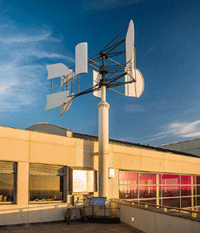 NPS Photo
The San Francisco Bay Area is a great location for the use of another renewable energy resource, wind. The majority of park buildings in Marin County use 100% renewable electricity from
Marin Clean Energy
. In 2012, all of this energy was provided by wind resources. Lands End Lookout even uses prevailing coastal winds to ventilate the building. At the Cliff House, a wind turbine supplies enough renewable energy to power the gift shop. The Crissy Field Center has 5 small-scale wind turbines prominently displayed in front of the building. The energy produced by renewable resources at the Crissy Field Center also supplies power for the publicly available electric vehicle charging stations on site.
CLICK HERE
to return to the main sustainability page