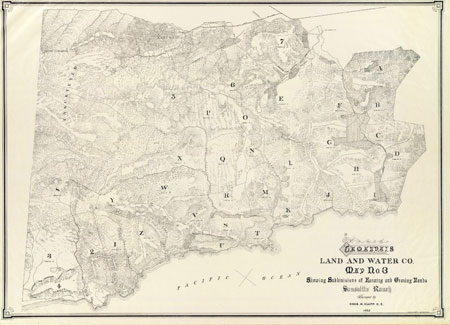 PARC, NPS
By the late 19th century and early 20th century, San Franciscians started to enjoy Marin County for its exceptional beauty and recreational opportunities. In 1889, the Tamalpais Land & Water Co. took over Throckmorten's land and the company subdivided the vast land holdings to create small towns, like Mill Valley. As part of the harbor defenses of San Francisco, the U.S. Army purchased a significant amount of the dairy farming land to establish Fort Baker, Fort Barry and later Fort Cronkhite.

In an effort to protect the area's natural resources from encroaching development, President Theodore Roosevelt created Muir Woods National Monument in 1908. With the construction of the Golden Gate Bridge in 1936, Marin's population exploded and ultimately, new suburban housing replaced the dairy farms. In 1945, George Wheelwright purchased one of the largest parcels of remaining open agricultural land; the Green Gulch Farm was over 800 acres and included Muir Beach. Wheelwright used this land as a cattle ranch; over time, the intensive cattle grazing eroded the land and degraded the Redwood Creek watershed.

At the end of the Cold War, the U.S. Army announced their plans to move out of the Marin Headlands and commercial companies, eager to make a profit on this incredible open space, suggested a concentrated housing development. In an outcry, environmental and conservation groups sought legal action to protect the open land, while political momentum gathered to create a new urban national park. In 1971, Wheelwright sold a small portion of his open space to the San Francisco Zen Center and sold the remaining 650 acres of open space to the National Park Service to help create the Golden Gate National Recreation Area.