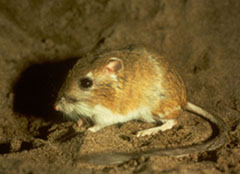 NPS
Pocket mice and kangaroo rats are common small mammals in Glen Canyon NRA and western North America. These rodents rarely travel far from their complex burrows systems which have separate chambers for nesting, child rearing, sleeping, and food storage. Most rodents remain in these burrows or other shady places during the day to stay cool, becoming active at night. Pocket mice and kangaroo rats block their burrow entrances for safety from predators, which include rattlesnakes, owls, hawks, coyotes, and badgers. Many rodents obtain all of their water from their food, which is an adaptation to the desert environment of several mammals. The primary food source of pocket mice and kangaroo rats is seeds, which they carry back to their burrows in cheek pouches, then neatly store by type. Ord's kangaroo rat (Dipodomys ordii), common to Glen Canyon NRA, is ecologically important because of their seed caching behavior. The kangaroo rat will husk and cache seeds of Indian ricegrass (Achnatherum hymenoides) and other grasses, sometimes forgetting caches. Kangaroo rats are adept jumpers and are able to change directions while jumping in mid-air, using their tail for balance.
Woodrats, or packrats, are known for their storage and garbage structures called middens. Species found in Glen Canyon NRA are the white throated woodrat (Neotoma albigula), bushy-tailed woodrat (N. cinerea), desert woodrat (N. lepida), and Mexican woodrat (N. mexicana). Woodrats prefer to build their middens on rocky slopes in scrublands and pinyon-juniper woodlands. Woodrats will mark their middens and territory with urine which, over time, can crystallize, fossilizing the leaves, seeds, fruit, sticks, pollen, bones, and other items inside. Some middens have been dated to over 50,000 years old. These fossilized garbage piles show a record of the plant and animal communities, or paleocommunities, which once existed in the woodrat's range. This data can be used to study the changes in plant communities over time and predict future movements. Research derived from woodrat middens on the Colorado Plateau predicts plants will respond individually to global warming in the near future.
The deer mouse (Peromyscus maniculatus), also found in the Glen Canyon area, is the primary host for hantavirus. Avoid contact with mice and rats and the saliva, urine, and feces from these rodents to prevent contracting the disease.
Bats are the only mammals capable of true flight and are the second largest group of mammals in the world, following rodents. Bats are able to lower their temperature during the day to conserve energy as they roost alone or in colonies in the towering cliffs and canyon walls. Watch and listen for bats in the Glen Canyon area as they emerge at dusk to hunt for insects. The largest bat you are likely to see is the pallid bat (Antrozous pallidus), which is commonly seen at dusk. Some bats may only be seen during migration, such as the big brown bat (Eptesicus fuscus). Bats species in Glen Canyon NRA include little brown myotis (Myotis lucifugus), fringed myotis (Myotis thysanodes), western pipistrelle (Pipistrellus hesperus), and the Brazilian free-tailed bat (Tadarida brasiliensis). Free-tailed bats can reach flight speeds of 60 miles per hour and have special ear adaptations to reduce turbulence. To survive cooler winter temperatures, bats may migrate to a warmer location or lower their body temperature, metabolism, and breathing to conserve energy in a state similar to hibernation called torpor. Disturbing roosting bats or bats in torpor may compromise their energy reserves and survival.