Website and Webcam issues

There may be some interruptions in service on our website and webcams due to changes of our website. We will be getting everything up and running as soon as we can.
Native America Speaks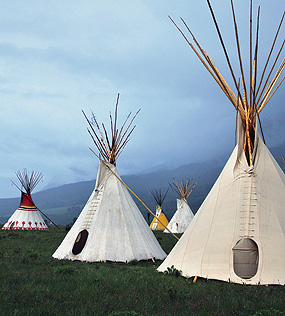 Doug McMains, NPS
Each summer Blackfeet, Salish, Kootenai,and Pend d'Oreille tribal members share their knowledge of the history and culture of Native America with Glacier National Park visitors as part of the Native America Speaks program. Programs are offered in campgrounds, lodges, and at the St. Mary Visitor Center. All Native American interpretive programs offered at Glacier National Park are made possible through a generous donation from the Glacier National Park Conservancy.
Highlights of the Native America Speaks program:
Jack Gladstone, a Grammy-nominated Blackfeet singer/songwriter, presents his popular "Buckskin PoetSongs" program. His program uses original live music to discuss and honor Native American contributions to American culture.
The Two Medicine Lake Singers and Dancers provide insight into contemporary and traditional Blackfeet history and culture through narration and fancy, jingle, traditional, and grass dance demonstrations at the St. Mary Visitor Center.
Did You Know?

Did you know that over 35 Hollywood films were set in Glacier National Park? In honor of film being an American tradition, the Glacier Centennial Program hosted a film festival throughout 2010.