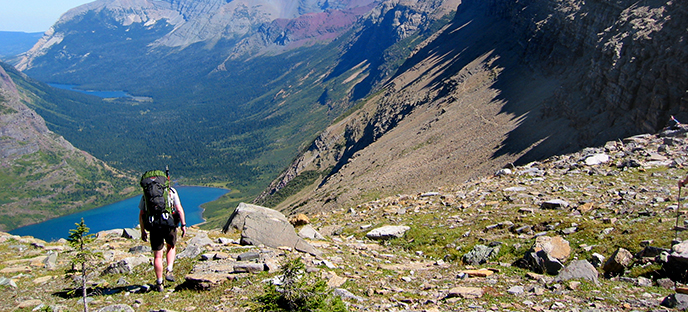 NPS / David Restivo
Glacier is a backpacking paradise. Famous for its towering mountains, pristine alpine lakes, abundant wildlife, and its 700+ miles of trails, Glacier continues to grow in popularity each year.
Follow the steps below to start planning your summer adventure. For a winter backcountry permit, please visit our Winter page.
Step 1: Read the Backcountry Camping Guide
Due to impending changes in advance reservation procedures, including an online reservation application, the Backcountry Guide will not be updated until late 2015. The 2015 Backcountry Camping Guide is still useful for information on campground locations and safety information, but should not be used for planning how to secure a reservation for the 2016 season.
Please visit the Backcountry page again in 2016 for more information.

NPS
Step 2: Use our Trip Planning Aids
Trail Status Reports and Walk-in Availability are only updated mid-May through early fall
Step 3: Watch our Backcountry Camping Videos
Summer Backcountry Camping
This 14 minute video is an essential tool to plan a successful overnight experience in the park. Day-hikers and the casual visitor to Glacier will also enjoy this introduction to the wilds of one of the most spectacular and wild areas in the world.
Winter Backcountry Camping Video
This video will aid in planning a successful winter overnight experience in the park. Park visitors not planning on this level of extreme winter recreation will appreciate the challenges highlighted in this short vignette into Glacier's winter.
Leave No Trace
Learn how you can minimize your impact on Glacier National Park and other places you recreate.
Step 4: Apply for a backcountry permit
Application procedures will be available in 2016.

David Restivo, NPS
Additional Services
Hiking Guide Service
Glacier Guides offers guided day hikes and backpacking trips into Glacier's backcountry. Backcountry Sherpa/porter service is also available, carrying visitor's gear into backcountry campgrounds or chalets. Camping equipment is available for rent at their West Glacier office.
Drop Camp Service
Swan Mountain Outfitters offers drop-camp service, packing visitors gear into certain backcountry campgrounds, using stock.
Day Trip Plan
If you are taking a day hike, please consider completing the voluntary Day Trip Plan form and leaving it with the front desk of your hotel or a traveling companion that is not hiking with you. This voluntary form can help you plan your trip and could be a valuable tool for search and rescue efforts if needed.
Please understand that completion of this form does not mean a search will be initiated for you if you do not return. However, if you are reported overdue from a hike, this document would help search personnel concentrate search efforts along your intended route saving critical time and possibly reducing risks to those that go looking for you.
If you are staying inside the park, you are welcome to leave a copy of this form with your hotel's front desk. All forms will be destroyed 30 days after the date completed. Again, this form is not intended to imply that our hotel concessioner or the National Park Service will be monitoring your return and does not mean a search will be initiated. If a search is initiated because others reported you overdue, the National Park Service will check with the hotels to see if a Day Trip Plan was filed and use it to help focus their search efforts. Plan well and enjoy your hike!