Our Backcountry Permit Advanced Reservation process has changed. All reservations requests MUST be submitted online. The new first-come, first-served reservation system will begin on March 15, 2016. Please see the link to Getting a Permit below.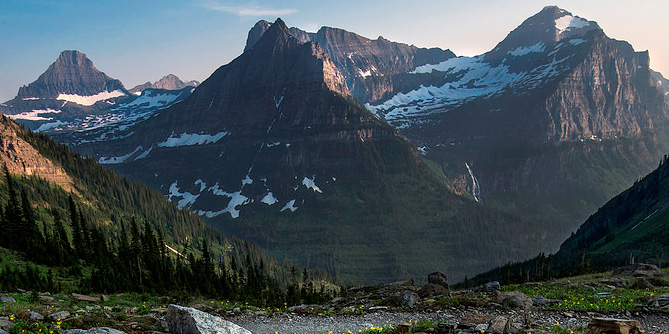 NPS / Tim Rains
Glacier's backcountry camping program is designed to minimize resource impacts while providing positive visitor experiences. The following information is designed to move you from a broad understanding of the overall permitting process to the specific steps needed to refine your plan and set out on the trail to enjoy a backcountry adventure in Glacier.
---
Table of Contents
Walk-in Permits

Office Locations

Advance Reservations
Map and Campsite List

Trail Conditions

Trail Closures

Backcountry Blog

Suggested Gear List
Campsites

Permits

Trip Itineraries

Group Size

Leave No Trace

Stock Use

Accessibility
Drowning

Hypothermia

Snow and Ice

Water Filtration

Solo Travel

Bears

Other Wildlife
Nyack / Coal Creek Camping Zone

River Camping

Border Crossing

Continental Divide Trail

Recreation on the Blackfeet Reservation

Winter Camping
Shuttles

Guided Trips

Packing Services
---
Camping Fees
There is a $7/night/person camping fee payable upon permit issuance at a backcountry permit office. Due to program fee requirements, there are no child or national land recreation pass discounts available.
---
Backcountry permits may be available the day before or day of a desired trip start date. Half of all sites in a campground are set aside for walk-in campers. However, that does not mean those sites will be available at all times. Backpackers on longer trips (4 or more nights) may take walk-in sites well in advance. Arrive early the day before your intended trip start date for the best campsite availability. No reservation fees are charged for walk-in permits, only the $7 / night / person camping fee is charged. Permits will not be issued after 4:30 pm at any location.
What's available tonight?
The dates are listed in green at the top of the chart. The numbers below indicate how many sites are available for a "walk-in" permit. Check the date at the top to make sure the chart is current.
Apgar Backcountry Permit Center
Open daily from May 1 to October 31.
When the Apgar Backcountry Permit Center has closed for the season, call (406) 888-7800 and schedule an appointment to have a backcountry permit issued.
St. Mary Visitor Center
Open daily from late-May to mid-September.
Many Glacier Ranger Station
Open daily from late-May to mid-September.
Two Medicine Ranger Station
Open daily from late-May to mid-September.
Polebridge Ranger Station
Open daily from early-June through mid-September.
Waterton Lakes National Park Visitor Reception Centre
Open daily from early-June to mid-September.
Payment by CREDIT CARD ONLY. Waterton is only authorized to issue trips that start at Chief Mountain or Goat Haunt.
Backcountry sites can be reserved in advance starting March 15 for groups of 1-8 campers and March 1 for groups of 9-12 campers. There is a $10 processing fee and a $30 application fee for EACH reservation request submitted. Applicants should expect a one month period of time between application submittal and notification of permit status. The $30 application fee will be refunded if the request is unable to be fulfilled. The camping fee of $7 / night / person is due upon picking up your permit.
Applications can be submitted ONLINE ONLY.
---
With its towering mountains, pristine alpine lakes, abundant wildlife, and over 700 miles of trails, Glacier is a backpacking paradise. Due to individual differences in fitness, backcountry experience, and personal preference, we don't offer specific trip recommendations.
In the broadest sense, Glacier's backcountry comes in two flavors - east and west roughly split along the Continental Divide. Each trail on a respective side offers a similar "feel." West side trails start at around 3,200 feet in elevation, are more heavily forested, and offer the greatest solitude. East of the divide, trails start at around 5,000 feet and the terrain is more sparsely vegetated, creating with more open vistas and attracting more crowds.
Trail conditions change frequently throughout the year, but our
Trail Status Reports page
offer some seasonal generalizations as well as specific trail condition updates throughout the summer season, that will help you know what to expect in the backcountry.
Hazardous or emergency conditions may make it necessary to close a trail segment. These closures may effect your planned itinerary. Backcountry rangers will make an effort to contact you on the trail to let you know your options and assist with route changes. It may take a while for everyone to be contacted. Do not enter any closed trail, even if it was part of your planned itinerary.
Current closures listed here.
The following items should be carried on every trip into Glacier's backcountry:
Bear Spray

Topographic maps

Compass

First Aid Kit

High-calorie food

Shelter

Sleeping bag and pad

Appropriate footwear

Wool or synthetic clothing to layer (dry clothes to sleep in)

Rain jacket and pants

Lightweight camp shoes

Footwear for stream crossings

A weatherproof food and garbage hanging bag

25 feet of rope for hanging food and garbage

Water container and water filter

Campstove and fuel

Emergency signalling device

Insect repellent
---
Backcountry camping is restricted to 65 designated campgrounds with the exception of the Nyack / Coal Creek camping zone where both designated campgrounds and at large camping are available.
A backcountry use permit is required for all overnight camping, and must be in your possession while in the backcountry. They are valid only for the dates, locations, and party size specified.
Itineraries must be contiguous - You can't exit one trailhead and drive to another trailhead to access campgrounds on the same trip. Note: Hiking short road sections on foot - Many Glacier and Two Medicine developed areas, Crossing Going to the Sun Road at Jackson Glacier Overlook - to connect longer itineraries is permitted.
The maximum party size allowed is 12 persons. Each backcountry campground has 2-7 campsites. Each campsite is limited to four (4) people and two (2) tents (2-4 person).
Many of Glacier's backcountry camping regulations are based on Leave No Trace (LNT) outdoor ethics. LNT tells us that by concentrating impacts, including eating, sleeping, and human waste disposal, we prevent degradation of a broader area. Concentrating impacts essentially creates small pockets of impact and leaves nearly pristine conditions over larger areas. For more information
visit LNT.org.
Information regarding the use of stock in the backcountry can be found on our
Private Stock Use
page.
Wheelchairs and trained aid dogs are appropriate accommodations in the backcountry. Due to potential hazardous interactions with bears, aid dogs are discouraged.
---
Use extreme caution near water. Swift, cold glacial streams and rivers, moss-covered rocks, and slippery logs are dangerous. Avoid wading in or fording swift streams. Never walk, play, or climb on slippery rocks and logs, especially around waterfalls.
Be prepared for sudden weather changes. Use rain gear before you become wet. If your clothes do become wet replace them with dry ones. Layer with synthetic or wool clothing as a base layer. Minimize wind exposure. Eat high-energy foods often.
Snowfields and glaciers can present serious hazards. Snow bridges may conceal deep crevasses on glaciers or hidden cavities under snowfields. These bridges may collapse under the weight of an unsuspecting hiker. Use extreme caution when crossing steep snowfields on trails and in the backcountry.
The protozoan Giardia lamblia may be present in lakes and streams. When ingested, their reproductive cysts may cause an intestinal disorder that appears weeks after your trip. The easiest method of effective water treatment is to boil water for one minute (up to five minutes at higher elevations) or use a filtration system capable of killing or removing particles as small as 1 micron.
Solo travel in the backcountry is not recommended. The best insurance for a safe and enjoyable trip rests with your ability to exercise good judgment, avoid unnecessary risks, and assume responsibility for your own safety while visiting Glacier's backcountry
Approaching, viewing, or engaging in any activity within 100 yards of bears or wolves, or within 25 yards of any other wildlife is prohibited. Use binoculars or a telephoto lens to improve your view. Keep the animal's line of travel or escape route clear and move away if wildlife approaches you.
Visit our
Bear Safety page
to find detailed information about hiking in bear country.
Deer, mountain goats, marmots, and other rodents are attracted to urine and sweat. They will chew holes in clothes, boots, and camping gear if left unattended.
Mosquitoes and flies can be a nuisance in some areas in July and August. Bring insect repellent or be prepared to cover up with lightweight clothing and perhaps a head net.
---
Special Trip Considerations
Nyack / Coal Creek Camping Zone
This area offers greater opportunities for solitude along with greater challenges in the form of undesignated camping. In addition to undesignated camping, designated camping is also available. Advance reservations are not allowed for undesignated camping.
Interested in doing an overnight river trip? Find all the information you need on our
River Camping Permits page
. Advance reservations are not allowed for river camping.
Southbound travel from Waterton Townsite (Canada) to the Goat Haunt Ranger Station (USA) requires an official government issued photo identification card for U.S. or Canadian citizens or permanent residents. All others must carry a valid passport. Visitors seeking to travel beyond the Goat Haunt Ranger Station into the United States must present documents that are Western Hemisphere Travel Initiative compliant. For information visit:
GetYouHome.gov
Northbound travel from Goat Haunt Ranger Station (USA) into Waterton Townsite (Canada) mandates contact with the Canadian Chief Mountain Port of Entry upon arrival at Waterton Townsite. Information on contacting the Port of Entry is available at the Waterton Lakes Visitor Centre or the Waterton Station of the Royal Canadian Mounted Police.
The Goat Haunt Port of Entry will operate from 11 am to 5 pm from June through late October. No entry into the United States past the Goat Haunt Ranger Station will be authorized outside of these hours.
A 110-mile segment of The Continental Divide National Scenic Trail (CDT) runs through Glacier. The designated CDT route and an early/late season alternate route are marked in blue on the map. CDT through-hikers (Mexico to Canada), who plan on entering Glacier at Marias Pass, should call the backcountry office at (406) 888-7857 prior to starting their trip for information on obtaining a backcountry permit.
Recreation on Blackfeet Reservation
A Conservation/Recreation Use Permit is required for all recreational activities on the Blackfeet Indian Reservation. A separate permit is required for fishing on the reservation. For further information call (406) 338-7207.
From November 20 to April 30, Backcountry Use Permits may be requested and approved in person or by telephone, up to seven days in advance. Approved permits must be picked up in person. There are no fees for winter permits.
---
Transportation and Services
A free park shuttle runs along the Going-to-the-Sun Road from early July to Labor Day. There are no commercial shuttle or taxi services available in the North Fork area (Polebridge, Bowman/Kintla Lakes) of the park.
Xanterra Parks & Resorts operates a fee-based trailhead shuttle from Many Glacier to the St. Mary Visitor Center from July 1–September 6 of 2016. For information visit:
GlacierNationalParkLodges.com
Glacier Park Inc. is scheduled to operate a fee-based shuttle on the east side from June 7–September 20 of 2016. For more information visit:
GlacierParkInc.com
Guided trips are available through Glacier Guides. For information and reservations visit:
GlacierGuides.com
Swan Mountain Outfitters offers drop-camp service using stock to pack your gear into certain sites. A backcountry permit is required. For information and reservations visit:
SwanMountainOutfitters.com/glacier
---
Loading the player...

Backcountry Summer Camping

Backcountry camping in Glacier is an incredible experience. Campsites may be reserved starting in March and continuing up to seven days prior to your desired trip start date (subject to advance reservation availability). Watching this video once per season is mandatory before obtaining a permit. It also has great advice for anyone hiking in the park, even if you don't plan to spend the night out.



Duration:

14 minutes, 19 seconds

Credit / Author:

Glacier National Park

Date created:

2015-07-09

Download Original File:
Loading the player...

Backcountry Winter Camping

This video will aid in planning a successful winter overnight experience in the park. Park visitors not planning on this level of extreme winter recreation will appreciate the challenges highlighted in this short vignette into Glacier's winter.

Duration:

10 minutes, 19 seconds

Credit / Author:

Glacier National Park

Date created:

2015-07-09

Download Original File: