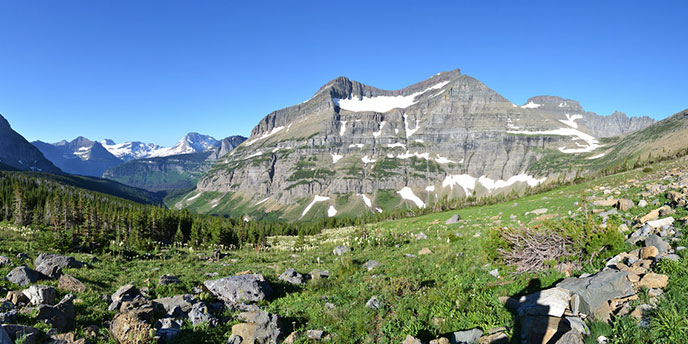 NPS Photo
Known to Native Americans as the "Shining Mountains" and the "Backbone of the World", Glacier National Park preserves more than a million acres of forests, alpine meadows, lakes, rugged peaks and glacial-carved valleys in the Northern Rocky Mountains. The landscape is a hiker's paradise that is traversed by more than 740 miles of maintained trails. You can explore Glacier's natural resources on foot, or on these pages:
Animals
Plants
Environmental Factors
Natural Features & Ecosystems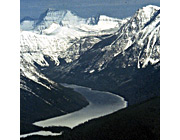 B. Graff
Glacier Park's varied climate influences and its location at the headwaters of the Pacific, Atlantic and Hudson Bay drainages have given rise to an incredible variety of plants and animals. Its diverse habitats are home to nearly 70 species of mammals including the grizzly bear, wolverine, gray wolf and lynx. Over 270 species of birds visit or reside in the park, including such varied species as harlequin ducks, dippers and golden eagles.
The park is named for its prominent glacier-carved terrain and remnant glaciers descended from the ice ages of 10,000 years past. Bedrock and deposited materials exposed by receding glaciers tell a story of ancient seas, geologic faults and uplifting, and the movement of giant slabs of the earth's ancient crust overlaying younger strata. The result of these combined forces is some of the most spectacular scenery on the planet.
In 1932 Glacier National Park and Waterton Lakes National Park, across the border in Canada, were designated Waterton-Glacier International Peace Park. This designation celebrates the longstanding peace and friendship between the two nations. Both parks have since been designated International Biosphere Reserves and together were recognized in 1995 as a World Heritage Site. Clearly this resource is deserving of world-class recognition.
Scientific Research in Glacier National Park

NPS photos
Glacier National Park has a proud legacy of research and scientific accomplishment dating back to the period prior to World War II. Although a formal research program did not exist in the park until the mid 1960s many research projects and investigative surveys were carried out during the first half of the twentieth century by independent and academic investigators. The application of knowledge gained through science is essential for effective park management.

The primary research partner for the National Park Service is the U. S. Geological Survey (USGS). Scientists at the Glacier Field Station are involved with interdisciplinary, regional and multi-agency programs. Many of these are long-term strategic investigations that address high visibility national priorities. Examples include a multi-year regional grizzly bear investigation, studies of sensitive fish populations, post-fire burn assessments, and one of the nation's premiere Global Climate Change research programs. These scientists are administratively attached to the USGS Northern Rocky Mountain Science Center in Bozeman, Montana.

Strong emphasis is placed on scientific collaboration with other agencies at all levels of government, regional Indian tribes and universities. Collaborative endeavors are encouraged through the formation of research partnerships with qualified independent investigators. A wide range of science and resources management activities are also carried out by park specialists. These include short-term problem-solving type investigations, fact-finding studies, inventory and monitoring activities and descriptive types of investigations. Several units have been formed to deal with special programs including a native plant restoration program, bear management, invasive weed control, aquatic ecosystems management, air quality monitoring, and mapping and data management. Click here for information about conducting research in Glacier National Park.
---
Recent Science Initiatives in the National Park Service
In the early 2000s the NPS launched several new science initiatives as part of the Natural Resource Challenge program, a Service-wide effort aimed at bolstering science and resource management throughout the national parks. A key feature of this initiative is a network of Cooperative Ecosystem Studies Units (CESU's). These units were created to facilitate park science and provide technical assistance to resource managers within designated biogeographic regions. A prominent feature of the CESU program is establishment of formal linkages with a national network of colleges, universities and non-governmental research organizations. The NPS has placed full-time Research Coordinators at the universities hosting CESU's. Glacier National Park was fortunate to be among the first Parks to benefit from this initiative through establishment of the Rocky Mountains CESU located at the University of Montana in Missoula. Dr. Kathy Tonnessen, the National Park Service Research Coordinator at this unit, facilitates research, technical assistance and outreach programs between affiliated universities and parks throughout the United States with an emphasis on units in the Rocky Mountain cluster.
A further boost to park-based science was provided through the inauguration of a Service-wide comprehensive Inventory and Monitoring Program. The biological inventory phase of this initiative was implemented in 1999 to secure basic descriptive information about natural resources occurring throughout the nationwide system of national parks, monuments and historic sites. Glacier National Park received funds to begin this work in 2001. The second phase of the program involves long-term ecological monitoring known as "Vital Signs Monitoring". Glacier National Park is part of the Rocky Mountain Inventory and Monitoring Network headed by Mike Britten.
Another initiative established under the Natural Resource Challenge program is creation of a national network of Learning Centers. National Park Service Research Learning Centers are designed to increase the effectiveness and communication of research and science results in national parks through facilitating the use of parks for scientific inquiry, supporting science-informed decision making, communicating the relevance of and providing access to knowledge gained through scientific research, and promoting science literacy and resource stewardship. An important theme underlying the Learning Center concept is multidisciplinary collaboration and the involvement of natural resource agencies among all levels of government, including regional Native American tribes and educational institutions. Implementation of this initiative varies widely among different parks. Glacier National Park converted two Mission 66 houses in the headquarters area at West Glacier to office space and temporary facilities for visiting scientists. The Glacier National Park unit, aptly named the "Crown of the Continent Research Learning Center" (CCRLC), serves Waterton-Glacier International Peace Park, Grant-Kohrs National Historic Ranch, and Little Bighorn National Battlefield. The Director of the CCRLC is Tara Carolin.
---
If you have questions about Nature, Science or Research in Glacier, or any other general questions about the park, please e-mail us. A park naturalist will respond or forward it to the most appropriate park office for response.