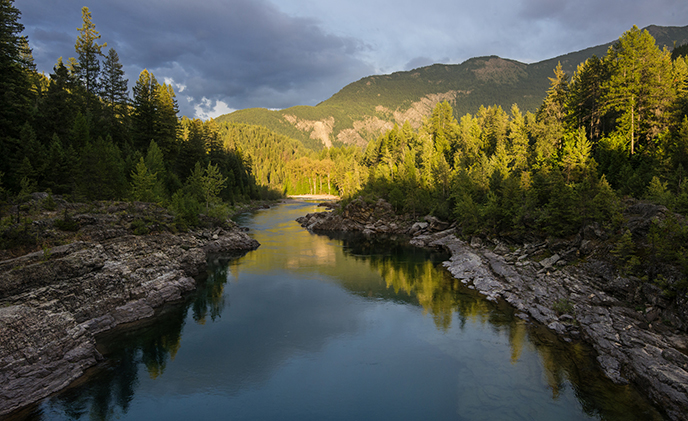 NPS/Tim Rains
Glacier National Park captures the essence of what the pristine, undisturbed Rocky Mountain region has been like over thousands of years. Its size and history of protection have made it a prominent jewel in the "Crown of the Continent" -- the wild Northern Rockies. The Park has an unrivaled assemblage of plants and wildlife, scenery and solitude that are jaw-dropping, and a legacy of interesting stories. Located at approximately 49° north lattitude with an elevation gradiant extending from 1000 m to over 3000 m, (3,000 to 10,000 ft MSL), park habitats encompass several ecotones and exhibit a wide variety of macro and micro habitats. The west side of the Park is influenced by cool moist Pacific maritime weather whereas east of the Continental Divide weather conditions are driven more by dry windy continental air masses arriving from the Canadian provinces. With the headwaters of three continental drainages located in Glacier Park, floral and faunal have diverse affinities with many species occurring near the geographic limits of their range. Even slight differences in elevation and directional exposure can radically alter the occurrence of specific habitats and, hence, the distribution of flora and fauna.

Presently, 140 plant and animal species found in Glacier Park are listed by the state of Montana as "Species of Special Concern", four are federally listed as "threatened" (bald eagle, grizzly bear, lynx and bull trout), one is designated "endangered" (gray wolf) and one (slender moonwort) is a candidate for federal listing. The preservation and maintenance of biodiversity in Glacier Park is a daunting task for park managers given the growing list of threats, including some that are global in scale such as a warming climate. The introduction of invasive, non-native (exotic) plant and fish species are major issues.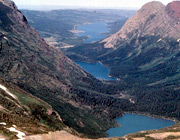 B. R. McClelland
Monitoring changes to the environment such as impacts due to global climate change and the spread of exotic species, needs to be matched with serious restoration efforts on such things as whitebark pine communities and native aquatic systems. To do this, park managers must share knowledge with their Canadian partners as well as other U.S. agencies to coordinate efforts, especially regarding wide-ranging animals like grizzlies, wolverine, lynx and wolves and threatened aquatic populations of fish and micro-organisms. Without scientific research and management restoration efforts, Glacier Park as we know it could be irretrievably altered. The Park is one of the most magnificent places on earth and a great deal of knowledge has been gained about how and why it works. We want to pass it along to future generations the way it is today, or better.