Kids & Youth
---
2015 Glacier National Park and Glacier National Park Conservancy Annual Pass Artwork Contest
Congratulations to Eileen Crusta, a 10th grade homeschool student, who submitted the winning entry. Her image of Bowman Lake and wildlife is on the 2015 Glacier National Park Annual Park Pass. This pass became available in January 2015, and approximately 14,000 passes will be issued during the year. The art contest was open to students in grades 6-12. The purpose of the contest is to improve stewardship and understanding of cultural and natural resources in the park. The focus of this year's contest was colorful artwork depicting natural resources protected and preserved in the park.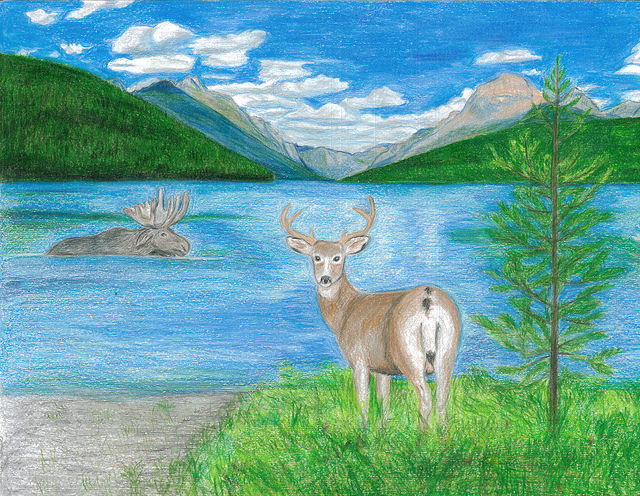 E. Crusta
Ryan Kelly, seventh grade student at St. Matthews School, and Ryann Thomas, sixth grade student at C.R. Anderson Middle School, were recognized for second and third place respectively. Alanna Santa, also a seventh grade student at St. Matthews School received honorable mention. Their artwork can be viewed on our Flickr site.
Mark Preiss, Glacier National Park Conservancy President and CEO, said, "This art contest is a great way for students to connect with Glacier and showcase their artistic talents." He added, "We received dozens of submissions, each reflecting different interpretations of why Glacier matters and what it offers to each of us every day."