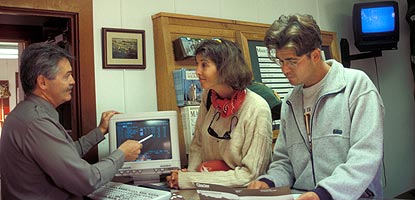 Bill Hayden, NPS
Current Vacancy Announcements
Information on current position vacancies with the National Park Service, Glacier National Park, and other agencies, may also be obtained at the following website:
www.usajobs.gov
---
Career Employment Information
Glacier National Park has the authority to recruit directly for most career (permanent) positions. When a position is advertised it is uploaded to the Internet. If we are recruiting for a position, it will be included with the rest of the Department of the Interior's recruitments. The address to find announcements is: www.usajobs.gov . You may want to check the website periodically for vacancies. Resumes are accepted only when a vacancy occurs and only during the time period specified in the announcement.
We have little turnover in our permanent staff, so you may want to consider temporary or seasonal employment with us. Please refer below to "Seasonal Jobs at Glacier National Park " for more information.
When you apply for Federal positions, your resume is reviewed for qualifications based on either your education or work experience or a combination thereof. In addition to basic qualifications, an announcement will have knowledges, skills, and abilities, and/or selective factors, listed. You will also need to complete an assessment questionnaire for each position for which you apply. To qualify and be listed on the certificate of eligible candidates for a job(s), you will need to meet basic qualifications, and provide detailed documentation of your experience, education, training, etc. related to the knowledges, skills, abilities, and/or selective factors of the job for which you are applying.
We hope this information assists you in future employment endeavors. Should you have any further questions, please contact the Human Resources Office at (406) 888-7877 or 7891.
Thank you for your interest in employment with Glacier National Park.
---
Seasonal Jobs at Glacier National Park
The National Park Service is the number one employer of summer temporary positions within the Department of the Interior. Employment opportunities abound! However, competition is keen in most areas.

Not all NPS areas recruit for seasonal positions at the same time. For information on seasonal positions in other NPS areas, contact those parks directly. General information on seasonal employment in Glacier National Park is listed below.
Pay:
Most seasonal positions require irregular hours of work, including weekends, holidays, and evenings. Entry-level grades generally range from GS-3 to GS-5 or WG-03 through WG-09. Current salary information for these grade levels is indicated. Pay levels vary in different sections of the country. Check with any Federal agency or the Office of Personnel Management in the geographic area where you desire employment.
Uniforms:
Some seasonal employees are required to wear the official Park Service uniform; specific requirements and ordering information are contained in the employment package forwarded to successful applicants. For positions requiring a uniform, an allowance is allotted which partially covers its cost.
Housing:
Glacier is normally able to offer housing to temporary employees. Most housing is shared. Rent is deducted from bi-weekly salary payments. Seasonal employees occupying government quarters are not allowed to have pets. Cost varies with location and type of quarters but generally ranges from $60 to $160 bi-weekly.
Duty Stations:
Glacier National Park is a natural park and is relatively rural. The two major duty stations are St. Mary and West Glacier, Montana. Some minor amenities are available during the summer months in these locations. Other duty stations can be remote. Transportation may be a necessity depending on personal preference.
Equal Employment Opportunity:
The National Park Service is an Equal Opportunity employer. Selection for positions will be made solely on the basis of merit, fitness, and qualifications, without regard to race, sex, color, creed, age, marital status, national origin, sexual orientation, non-disqualifying handicap conditions, or any other non-merit factors.
The main employment season for Glacier National Park runs from Memorial Day to Labor Day. Some positions may begin earlier in the year and/or extend longer into the fall. The actual length of employment depends on the position and work location. Glacier typically does not hire temporary employees for the winter season.
Recruitment for summer positions begins in December of each year and may run as late as March. Glacier hires approximately 350 summer seasonal positions in various disciplines.
All vacancies are posted at www.usajobs.gov. You should check there often as daily updates can occur. Additional information and specific guidance on how to apply is available by calling the Glacier National Park Human Resources Office at (406) 888-7877 or 7891.
If you are interested in Volunteer-in-Parks (VIP) or Student Conservation Association (SCA) positions, please refer to our Volunteer Information Page.
---
Positions advertised through Glacier National Park's Human Resources Office
Park Ranger
Grades: GS-04, GS-05, GS-06, GS-07
Duties: Duties vary greatly from position to position and may include providing visitor services; interpreting park natural, historic, or archeological features through talks and guided hikes; working at an information desk; planning and implementing resource management programs, including fire control; front and backcountry patrol; performing search-and-rescue activities or providing for the public's safety through law enforcement.
Pay rates (2013):
GS-04: $13.41 ph;
GS-05: $15.00 ph;
GS-06: $16.73 ph;
GS-07: $18.59 ph
Law Enforcement:
GS-05: $18.50 ph;
GS-07: $21.07 ph
Laborer
Grades: WG-03
Duties: Laborers perform duties such as cleaning in buildings and campgrounds, outdoor work on trails, assisting skilled trades employees, and other maintenance type activities requiring physical labor. Applicants must be able to lift and carry 50 pounds unassisted. The application period generally opens in January.
Pay rates (2013):
$14.01 ph
Visitor Use Assistant
Grades: GS-04, GS-05, GS-06 (limited number)
Duties: Collect fees at entrance stations and campgrounds, issue backcountry permits, work in campgrounds, respond to a variety of visitor questions, and provide assistance and information to the public.
GS-5 positions are Lead Visitor Use Assistants and GS-6 positions are Supervisory.
Pay rates (2013):
GS-04: $13.41 ph;
GS-05: $15.00 ph;
GS-06: $16.73 ph
Biological Science Technician
Grades: GS-04, GS-05, GS-06
Duties: Perform and assist in the areas of vegetation/re-vegetation, wildlife and/or plant assessment and monitoring.
Pay rates (2013):
GS-04: $13.41 ph;
GS-05: $15.00 ph;
GS-06: $16.73 ph
Forestry Technician
Grades: GS-03, GS-04, GS-05, GS-06
Duties: Performs fire lookout duties or hazardous tree removal and eradicates exotic plant species.
Pay rates (2013):
GS-03: $11.95 ph;
GS-04: $13.41 ph;
GS-05: $15.00 ph;
GS-06: $16.73 ph
Firefighter positions will be recruited through a centralized system. To apply visit www.firejobs.doi.gov or www.nps.gov/fire. Read all instructions carefully.
Communication Technician
Grades: GS-05
Duties: Positions are located in the Dispatch Center of Glacier National Park. They are duty stationed in West Glacier and work rotating shifts. The Dispatch Center is open seven days a week, twenty-four hours a day during the summer months. Work is performed mainly in support of the field operations. These positions serve as the main point of contact for incoming phone calls and are emergency dispatch operators. Work can be stressful.
Pay rates (2013):
GS-05: $15.00 ph
Skilled and Semi-Skilled Wage Grade Positions

Glacier National Park recruits for a variety of trades positions. The following is a basic list of those generally employed during the summer months.
Animal Packer
Carpenter (Journey level and lead)
Engineering Equipment Operator (CDL license required)
Motor Vehicle Operator (CDL license required)
Maintenance Mechanic (Journey level and lead)
Maintenance Worker Leader (Buildings, Utilities, Trails)
Maintenance Worker (all levels buildings and utilities)
Maintenance Worker (Trails)
Pay Scales for wage grade positions (2013 level)
WG-05: $16.98 ph
WG-06: $18.45 ph
WG-07: $19.88 ph
WG-08: $21.31 ph
WG-09: $22.89 ph
Supervisory and lead positions pay scales vary. Job announcements will indicate current wage.
---
Other Important Information
If you have any questions regarding job availability for summer employment, please call the Glacier National Park Human Resources Office at (406) 888-7877 or 7891 prior to submitting an application.