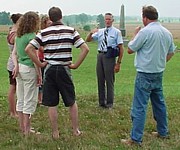 (National Park Service)
For visitors wishing a personalized tour, the Licensed Battlefield Guide service is the best way to see and understand the battlefield in the comfort of your own vehicle. Guided tours are two hours in length, very informative and the historical knowledge of the guides is superb. Guides are assigned to personal vehicles from the Visitor Center desk on a first come, first served basis beginning at 8:00 AM each day. Guides may be reserved in advance for organized bus groups by calling toll free 1-877-874-2478 or fax 1-717-338-1244. A guide may also be reserved for individuals in cars. This may be the best choice for those visitors who have limited time to visit the park.
Licensed Battlefield Guide Fees
Check our Fees and Reservations Page.

For visitors who prefer not to take their personal vehicle through the park, there is a battlefield bus tour with a guide on board available from March through September. These tours begin and end at the National Park Service Museum and Visitor Center:
Guided Bus Schedule
March 25 to April 6- twice daily at 11:00 and 1:30.
April 7 to June 8- three times daily at 9:30, 12:00 and 2:30.
June 9 to August 26- six times daily at 9:30, 11:00, 12:00, 1:30, 2:30, and 4:00.
August 27 to October 16- three times daily at 9:30, 12:00, and 2:30.

Bus Tour Fee
Check our Fees & Reservations Page.
The Self-guided Auto Tour is available in the Official Map and Guide that can be picked up at the Museum and Visitor Center. This tour will guide you through the park with stops at important sites where field exhibits help explain the area, tell the story, and highlight the personalities involved. This may be the best choice for visitors who have planned for a full day in the park and there is no charge for the Self-guided Auto Tour.