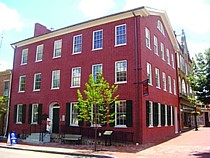 (Main Street Gettysburg)
THE DAVID WILLS HOUSE
Attorney David Wills' home in Gettysburg was not just in the center of Gettysburg, it was the center of the immense clean-up process after the Battle of Gettysburg and where President Abraham Lincoln put the finishing touches on his Gettysburg Address. The speech transformed Gettysburg's community from a place of devastation to the symbol of our nation's new birth of freedom.
The Wills House museum features six galleries, two of which include rooms that have been restored to their 1863 appearance: Will's office where he received letters from families looking for loved ones after the battle and undertook plans for a national cemetery and its dedication; and the bedroom where Lincoln stayed the night before he delivered the Gettysburg Address.
The Wills House is operated by the Gettysburg Foundation, the official support organization with Gettysburg National Military Park, and is listed on the Register of National Historic Places.
The Wills House is open from 10 A.M. to 5 P.M. daily from May 1 through August 30 every year with limited hours during the rest of the year:
April, September and October: Wednesday through Monday from 10 A.M. to 4 P.M. (closed Tuesdays)
November and December: Saturday and Sunday only from 10 A.M. to 4 P.M. (closed weekdays)
January and February: Saturday from 10 A.M. to 4 P.M. and Sunday from 10 A.M. to 3 P.M. only. (closed weekdays)
March: Thursday through Monday, from 10 A.M. to 4 P.M.
There is a fee to enter the Wills House. For further information, visit or Fees and Reservations page and the official web site for the David Wills House at davidwillshouse.org.
---