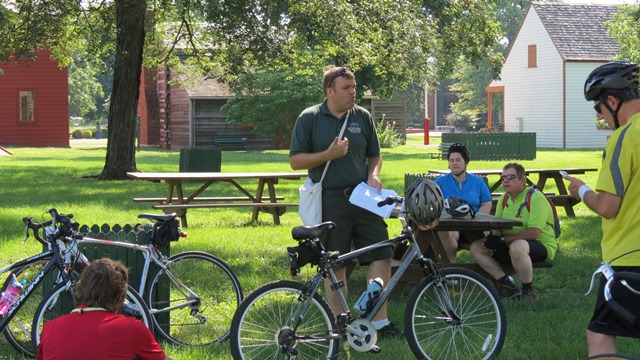 National Park Service
Ride With A Ranger: 2014 Bike Tours starting at the George Rogers Clark National Historical Park (GRCNHP) Visitor Center
Six Hour Fall "Grand Tour" (Roundtrip is approx. 22 miles)
Saturday September 6 (8:30-3:00 p.m.) - This ride follows the full 10.5 miles of George Rogers Clark's march to Vincennes. Riders will ride from the park to Clark's Landing and back to the park as they retrace Clark's daring trek to Vincennes.
Other important information:
-Pre-registration is required
-All participants should be present no later than the times mentioned above for sign-in and orientation
-Bicyclists should be in good physical condition
-Inclement weather may cause cancellation
-Participants are requred to bring their own bicycles and personal gear, including water and snacks
-Proper wear of helmets is required
-Bicycles should be in good operating condition
For more information or to register, please contact Park Ranger Jason Collins at 812-882-1776 ext. 207.