Change in Park Hours

The George Rogers Clark Memorial and Visitor Center are now closed on all federal holidays except Memorial Day, July 4th, and Labor Day.
Pets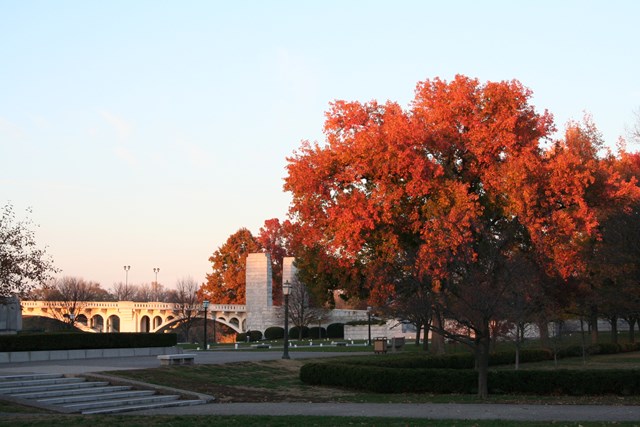 National Park Service
With some restrictions, you may bring your pet with you to George Rogers Clark National Historical Park. At all times, pets must be restrained on a leash no longer than six feet in length. Leashes protect dogs from becoming lost and from other hazards. Leashes also help protect park resources, including wildlife and vegetation.

Pets should not be left unattended. Summer sunshine poses a threat to pets left in vehicles. On a bright, sunny day, even in temperatures as low as 60° F, temperatures inside a vehicle can reach dangerous levels. On an 85-degree day, the temperature inside a car-even with the windows cracked-can reach over 100 degrees within 10 minutes.
Where you CAN go with your pet:
Any of the walkways inside the park and outside the visitor center and memorial.
Where you CAN'T go with your pet:
Public Buildings
Service Animals

Service animals are an exception to these rules and may accompany their owner to all park locations.
Did You Know?

The George Rogers Clark Memorial was administered by the State of Indiana untill 1966 when it was adopted into the National Park Service. President Lyndon Baines Johnson visited the park and signed the act which made it a national historical park. More...