Change in Park Hours

The George Rogers Clark Memorial and Visitor Center are now closed on all federal holidays except Memorial Day, July 4th, and Labor Day.
National Park Week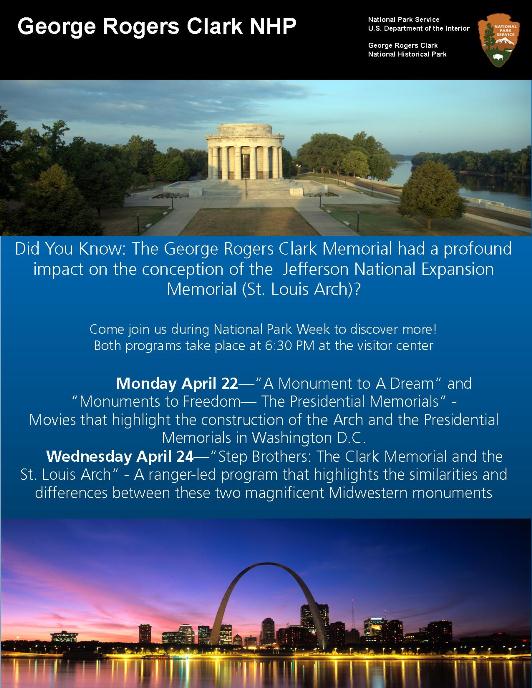 National Park Service
George Rogers Clark NHP (GRCNHP) invites everyone to get to know their national park during National Park Week. This year's dates are April 20 - 28, with free admission to all national parks April 22 - 26.
This year's theme for National Park Week is "Did You Know?" It provides an opportunity for everyone to get to know GRCNHP and the stories and resources that it protects.
For example, did you know that the George Rogers Clark Memorial is the largest battlefield memorial in the country? Did you know that the Clark Memorial had a profound impact on the conception of the iconic Jefferson National Expansion Memorial (St. Louis Arch)?
Join us during National Park Week to discover more! Both programs take place at 6:30 PM at the visitor center at 401 S. 2nd St.
For more information, contact Park Ranger Jason Collins at 812-882-1776 ext. 207 or e-mail us
Did You Know?

The George Rogers Clark Memorial was administered by the State of Indiana untill 1966 when it was adopted into the National Park Service. President Lyndon Baines Johnson visited the park and signed the act which made it a national historical park. More...