Change in Park Hours

The George Rogers Clark Memorial and Visitor Center are now closed on all federal holidays except Memorial Day, July 4th, and Labor Day.
Junior Ranger program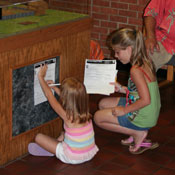 George Rogers Clark NHP
Children of all ages may become junior rangers while visiting the George Rogers Clark National Historical Park.
How? When you arrive at the park, ask a ranger at the visitor center for a Junior Ranger questionnaire.
Watch the movie, visit the Clark Memorial, walk the park grounds, and view the exhibits in the visitor center to find answers to the questions on the form.
When the completed questionnaire is returned to the visitor center, you will be rewarded with a badge and induction into the Junior Ranger Program.
Did You Know?

The George Rogers Clark Memorial was administered by the State of Indiana untill 1966 when it was adopted into the National Park Service. President Lyndon Baines Johnson visited the park and signed the act which made it a national historical park. More...