Change in Park Hours

The George Rogers Clark Memorial and Visitor Center are now closed on all federal holidays except Memorial Day, July 4th, and Labor Day.
Plan Your Visit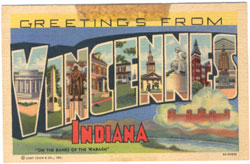 George Rogers Clark National Historical Park offers lessons about 18th century frontier life as experienced by pioneers along the western fringe of the American Revolution. To take in the park's movie and the Clark memorial, visitors are encouraged to set aside at least one hour. However, should more time be available. . .
The park also provides opportunities for family and recreational time. A picnic area is located near the visitor center parking area. Sidewalks are strategically located throughout the park leading to a variety of monuments and statues offering a unique area in which to stroll and to explore.
Park grounds are located adjacent to the downtown area of Vincennes. While visiting the park, make time to wander the sidewalks. Visit Vincennes' unique shops, antique stores, and flavorful diners.
Vincennes has a number of historic sites which will add to and expand upon your visit to George Rogers Clark NHP. Check out these other areas of interest.


Did You Know?

During the Revolutionary War battle of Fort Sackville, there were French militia supporting the British inside the fort and two companies of French militia with American Colonel George Rogers Clark on the outside. More...