Change in Park Hours

The George Rogers Clark Memorial and Visitor Center are now closed on all federal holidays except Memorial Day, July 4th, and Labor Day.
Directions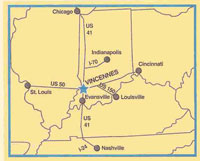 Knox Co. CVB
The George Rogers Clark National Historical Park is located within the city of Vincennes, Indiana. Vincennes is located along the Wabash river in the southwestern part of the state. Evansville is approximately 50 miles to the south and Terre Haute is approximately 50 miles to the north. Highway 41 provides good roads from both of these cities. Highway 50 provides access from the east and west. From Hwy 50 east and west or from Hwy 41 from the north use the 6th Street exit and stay on 6th Street till reaching the intersection with Barnett Street (approximately 2.5 miles). Turn right on Barnett and follow it to the park. On Hwy 41 from the South use the Willow Street exit. Turn right on Willow Street for approximately 2 miles to its intersections with South 6th Street, turn right. Travel four blocks and turn left on Barnett Street which will lead to the park.

Vincennes CVB
Blue and white signs throughout Vincennes provide directions to historic sites within the community.


Did You Know?

Did you know that George Rogers Clark's forces came mainly from Virginia and Pennsylvania, not from the Kentucky frontier? Also, approximately half of his forces were French speaking volunteers.