Change in Park Hours

The George Rogers Clark Memorial and Visitor Center are now closed on all federal holidays except Memorial Day, July 4th, and Labor Day.
Work Continues at the George Rogers Clark Memorial
Image courtesy of Pamela Nolan, George Rogers Clark NHP
The current restoration project will completely gut the building of its heating, air conditioning, and electrical systems. A new geothermal system and air handler are being installed. This new system will include 21 wells 300 feet deep to provide for the heating and cooling of the structure. The system will include improved ability to control and to monitor humidity and temperature. The end result of the project will be an environment much more hospitable to the long term preservation of the seven magnificent murals located in the structure. The work began in October of 2012 and is slated for completion by mid-July. The primary contractor expects the work to be completed before Memorial Day.
Stay tuned to this page for further developments.
Did You Know?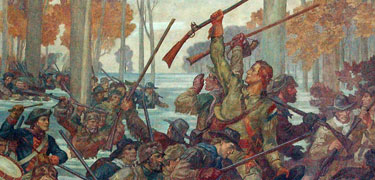 George Rogers Clark was the older brother of William Clark (of Lewis and Clark fame). George is considered the conqueror of the Old Northwest Territory, having won a major victory at Vincennes, Indiana. More...