Change in Park Hours

The George Rogers Clark Memorial and Visitor Center are now closed on all federal holidays except Memorial Day, July 4th, and Labor Day.
"Great things have been effected by a few men well conducted."
The British flag would not be raised above Fort Sackville Feb. 25, 1779. At 10 a.m., the garrison surrendered to American Colonel George Rogers Clark. His American army, aided by French residents of the Illinois country, had marched through freezing floodwaters to gain this victory. The fort's capture assured United States claims to the frontier, an area nearly as large as the original 13 states.

Did You Know?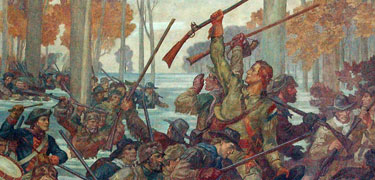 George Rogers Clark was the older brother of William Clark (of Lewis and Clark fame). George is considered the conqueror of the Old Northwest Territory, having won a major victory at Vincennes, Indiana. More...