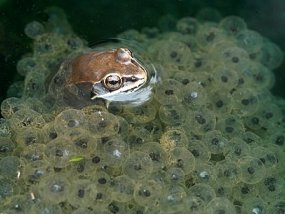 John White
Gooey Beginnings
Wood frog eggs are suspended in a soft, grayish, gelatinous mass the size of an apple or plum which floats free on the water's surface or attaches to sticks or plants. Often the eggs from several females are in one big clump containing several thousand eggs. The earliest eggs are in the center of this mass, where they absorb more heat and develop faster than the others.
It takes a week to a month for the eggs to hatch, depending on the water temperature. Tiny tadpoles emerge from the eggs, their bodies like ebony droplets with minute eyes and long, narrow wiggling tails.
Tadpoles gather in the shallows where the water is warmest. Sometimes many thousands of them swarm in a little pool, where they eat algae growing on underwater plants and debris. Tadpoles develop tiny front and hind legs and gradually absorb their tails.
Breeding in temporary pools gives the advantage of avoiding predatory fish like trout or pike, but there is also a risk of the pool drying out—hundreds of tadpoles could flop around in the muck and die, becoming food for hungry gulls, jays, mink and other predators.
But, if all goes well, in mid to late summer, tadpoles transform into miniature froglets, crawling out of the water and hopping off into the woods.
Males will mature one year later and the females will mature in their second year. Most will return to breed in the same pools where they were born.