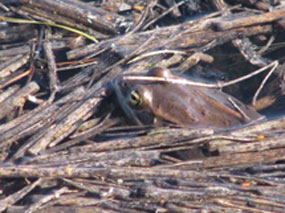 Richard Nelson
Frogs in Trouble
The inconspicuous little wood frog living in the remote forests of the far north could have enormous significance for modern medicine and for millions of people affected by a wide assortment of illnesses. Scientists are studying the wood frog's ability to freeze and to suspend metabolic functions, such as heart beat and breathing, without damage to organs or tissues. And what they learn could provide keys to human health concerns from diabetes and strokes to organ transplants.
But there is an opposite side to the equation—the wood frog may also urgently need help from humans.
There is a worldwide epidemic of deformed amphibians and the frequency of affected animals is higher in Alaska than in most parts of the United States. Wood frogs have been turning up in Alaska with abnormal legs and jaws, sometimes even with extra legs.
Researchers in Alaska have found a higher frequency of abnormalities in wood frogs living near roads than in frogs in more remote and wilder areas. No one knows why, but it is possible that pollutants like mercury are causing the deformities. The skin of frogs and other amphibians is highly porous and absorbent, which makes these animals especially vulnerable to pollution or disease carried in air or water.