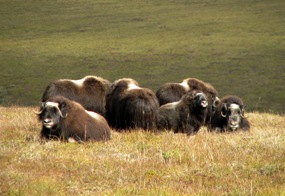 Richard Nelson
In 1935 and 1936, the muskoxen were taken down the Yukon River by steamship and loaded onto a barge at the Yukon River mouth. The barge nearly sank in a Bering Sea storm, but was kept afloat by men working hand pumps.
At last, the animals reached their final destination on tundra-covered Nunivak Island in the Bering Sea, off the Alaska Coast. Over the following decades they thrived and multiplied, and today there are about 600 muskoxen on the island. Muskox hunting provides food for Yup'ik villagers on Nunivak, and it is also a source of income from outsiders who come to hunt muskoxen on native lands.
Between the 1960's and 1980's, muskoxen were transplanted from Nunivak to nearby Nelson Island, the Arctic National Wildlife Refuge, the Seward Peninsula (Nome area), and to Cape Kruzenstern near Kotzebue; and some were also transplanted to Russia.
Who would ever guess, watching these muskoxen peacefully grazing, that their ancestors came from far away Greenland—traveling 8,000 miles by steamship, train and barge?