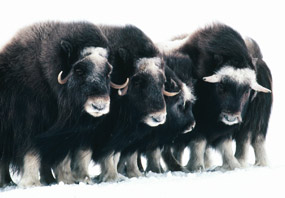 USFWS
Life in the Deep Freeze
Muskoxen are beautifully adapted to extreme arctic conditions. They live on open, unsheltered tundra, enduring shuddering gales, blowing snow and temperatures of –40 degrees or colder in the winter.
One key to their hardiness is their extraordinary fur which consists of two layers. The very long outer hair is the longest fur of any North American animal; and the thick wooly coat of underfur—known by the Eskimo name Qiviut—is eight times warmer than sheep's wool. Qiviut is also much more durable than wool, yet it is finer than cashmere.
Except for its lips and nostrils, every exposed part of a muskox is thickly wrapped in fur. The animals shed their underfur in summer, when loose clumps hang from the coat and sometimes get caught on willow bushes. Some native people gather the qiviut and spin it into beautiful, soft, lightweight yarn.
Other adaptations to cold include a barrel-shaped body and short legs, which reduce the ratio of body mass to surface area, minimizing heat loss. Muskoxen can be up to seven feet long with short legs and broad, stout cloven hooves, giving them a long, thick, brawny build. Bulls are around five feet tall at the shoulder and weigh 600-800 pounds, and the cows reach about four feet tall and weigh 400-500 pounds.