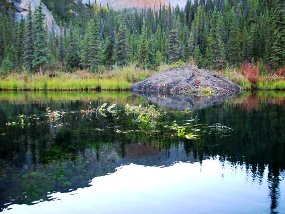 Richard Nelson
There are usually two underwater tunnels into the lodge, sloping up into a feeding room and a separate living or nesting room. There is always an airway up through the top of the lodge. In the winter, steam from the beavers' warm bodies and breath may be seen rising out from the airway.
Beavers living in deeper rivers and lakes often have no lodge but live in dens dug into the bank.
When freezing weather comes, the plaster mud on the outside of the lodge gets hard like concrete so it is almost impenetrable for predators, even bears. If a beaver is confronted by a predator such as a river otter which has entered the tunnel, it can put up a good fight, especially when protecting its young.
In the fall, to prepare for winter, beavers stash large piles of fresh branches in the water close to their lodge. These are clearly visible as a cluster of sticks protruding above the water or frozen into the ice.
The expression, "busy as a beaver," is based on real life. Koyukon people, who have studied these animals for generations, say that beavers get skinny in the fall from working so hard to prepare for the cold months ahead. But unlike many other animals, beavers live well in the winter and actually put on fat. It's interesting to imagine beavers in the perpetual darkness beneath snow-covered ice and within the lodge, swimming out at intervals to get branches and bringing them inside to eat.