Things To Do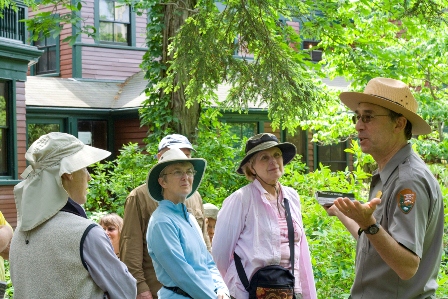 SPRING HOURS
Ranger-led tours are offered Fridays and Saturdays.

Tour times are at: 11am, 1pm, 2pm, 3pm, and 4pm.
(NOTE: On Friday, April 26 there will be no 3 or 4 pm tours due to a special event)

Groups of 10 or more please call ahead to reserve a tour at other times. For more information please call 617-566-1689 ext. 216 or email us.

The Olmsted grounds are open for self-guided tours 365 days a year from dawn to dusk. Grounds guides can be found by the visitor entrance.
Slide Programs
Frederick Law Olmsted: Pioneer of Beauty
The firm Frederick Law Olmsted founded over a century ago was involved in over 6000 landscape architecture projects throughout North America. Beginning with the seminal work of New York's Central Park, Olmsted created landscapes that nourished both body and mind and helped to nurture the nation's democratic spirit. The 60-minute slide lecture will sample this rich landscape legacy and explore the ideas behind his designs.
Frederick Law Olmsted and the Massachusetts Legacy
The Olmsted firm worked on some 1,200 landscape design projects throughout Massachusetts, from 500-acre public parks to intimate private gardens. This program explores Olmsted landscapes from the sands of the Atlantic to the forests of the Berkshires.
Domesticity in Green: Olmsted and Suburbia
Reinforced by his belief that "great towns cannot exist without great suburbs," Frederick Law Olmsted sought to change the way Americans lived. This talk explores Olmsted's views on suburbia, focusing on factors that influenced his designs. Broad conceptual ideas are shown through an examination of Riverside, Illinois, one of this country's first planned communities. A look at "Fairsted," Olmsted's Brookline home, reveals more intimate details of his design work.
These slide programs are available for groups by reservation. Please call (617) 566-1689 ext. 216 for more information.


Did You Know?

The Olmsteds worked with some of the country's most famous families including: the Edisons, Rockefellers, Vanderbilts, Kennedys and Heinzes.