Things To Do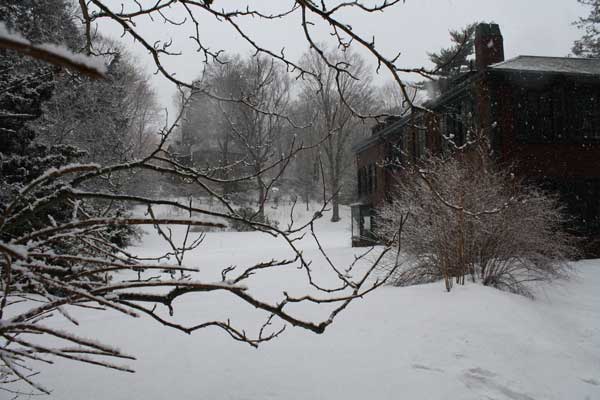 On-site programs here at Fairsted include ranger-led tours of the historic design office and restored landscape are offered by appointment only, Monday through Friday, and are subject to staff availability. Please call ahead to reserve a tour; 617-566-1689 ext. 221 or email us.
We will return to our walk-in tour schedule beginning Friday, April 4, 2014.
Grounds tours are available 365 days a year from dawn to dusk.Pick up a grounds guide by the visitor center tour for a self-guided experience.
Special Winter Programs
All programs are free and by reservation. Please use the link under each program description to make your reservation. Reservation emails should include your name, number of people and a phone number.
Moonlight and Magnolias: A Night of Nature at the Arnold Arboretum
Friday, February 14, 2014; 7pm
Experience the Arboretum in a new light, under the full moon. This night tour will explore the work of landscape architect Frederick Law Olmsted and horticulturist Charles Sprague Sargent who created a land where city dwellers could experience nature and learn more about trees from around the world. Please wear warm clothes and appropriate shoes, and bring a flashlight.
To make a reservation, please click here.

Frederick Law Olmsted and the Massachusetts Legacy
Sunday, February 23, 2014; 10am
The Olmsted firm worked on some 1200 landscape design projects throughout Massachusetts, from 500-acre parks to intimate private gardens. This illustrated talk explores Olmsted landscapes from the sands of the Atlantic to the forests of the Berkshires. Come learn about some of these very special places at the place were they were conceived- what Olmsted name Fairsted, and today we know as Frederick Law Olmsted National Historic Site.
To make a reservation, please click here.
Art in Olmsted's Office
Sunday, March 9; 2pm
Discover the historic design office with new perspective. Join a ranger and professional artist for a hands-on drawing program. Tap into your inner draftsman (or woman) as you capture the artistic beauty of Olmsted's design office. We will put pencil to paper during a session of group instruction and individual sketching. All experience levels welcome! Materials will be provided.
To make a reservation, please click here.
Franklin Park: A "Quiet Season" Jaunt
Sunday, March 23, 2014; 2pm
The beginning of spring is typically a quiet time at Franklin Park. The leaves, the songbirds, the golfers, the festival-goers are still weeks away from returning in large numbers. It is a special time to take in Franklin Park, its landscape and the healing effects that designer Frederick Law Olmsted sought to foster in his urban park creations. This time of year also offers the chance to observe features that re less visible when the park is full leafted out. Jooin us for a stroll to celebrate early spring's arrival.
To make a reservation, please click here.
Off-site programs offered throughout Brookline, Boston, and Massachusetts include Walks and Talks and Illustrated Programs.
Be the first to know about upcoming tour hours and program opportunities! Join our email list today!


Did You Know?

Frederick Law Olmsted Jr. helped draft the language that defines the NPS. Its mission: "to conserve the scenery and the natural and historic objects and the wild life therein…and by such means as will leave them unimpaired for the enjoyment of future generations"