Things To Do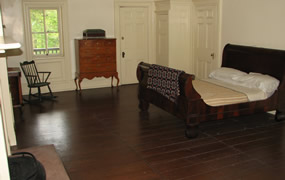 Set aside from one to three hours to visit and enjoy the historic house, exhibits, audio tour, nature trails and any special programs.
A self-guided audio house tour and "Reflections of Gallatin" presentation are offered throughout the year.
A picnic area and comfort station are adjacent to the main parking area. Visitors can explore the 661 acre park by way of ten miles of nature trails.


Did You Know?

Albert Gallatin was Secretary of Treasury from 1801 until 1814. He was offered the post again by President Madison in 1816. He declined because he thought the job required "an active young man." He felt this even more strongly in 1843, when at age 83, he was offered the post by President Tyler. More...