Gallatin House closed Tuesdays, Wednesdays, and Thursdays

The Gallatin House Visitor Center will be closed Tuesdays, Wednesdays, and Thursdays through May 8 2014. The house is open 9 a.m. to 5 p.m. Friday through Monday.
Things To Do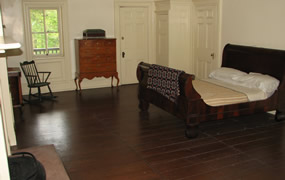 Set aside from one to three hours to visit and enjoy the historic house, exhibits, audio tour, nature trails and any special programs.
A self-guided audio house tour and "Reflections of Gallatin" presentation are offered throughout the year.
A picnic area and comfort station are adjacent to the main parking area. Visitors can explore the 661 acre park by way of ten miles of nature trails.


Did You Know?

Meriwether Lewis and William Clark named the three forks of the Missouri River the Jefferson, Madison and Gallatin rivers. Who was Gallatin? A statesman, diplomat, and financier, Albert Gallatin is remembered at Friendship Hill National Historic Site. More...