Things To Do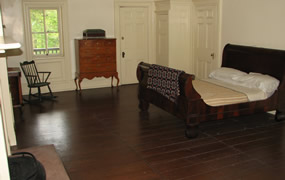 Set aside from one to three hours to visit and enjoy the historic house, exhibits, audio tour, nature trails and any special programs.
A self-guided audio house tour and "Reflections of Gallatin" presentation are offered throughout the year.
A picnic area and comfort station are adjacent to the main parking area. Visitors can explore the 661 acre park by way of ten miles of nature trails.


Did You Know?

Albert Gallatin was initially opposed to the Constitution, yet he used its principles to help create and support the addition of a Bill of Rights. Men like Gallatin saw and corrected the weaknesses in this great document. Without them, our individual freedoms wouldn't be protected as they are today. More...