Things To Do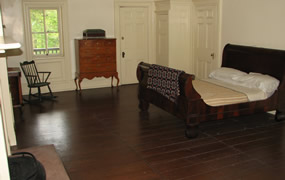 Set aside from one to three hours to visit and enjoy the historic house, exhibits, audio tour, nature trails and any special programs.
A self-guided audio house tour and "Reflections of Gallatin" presentation are offered throughout the year.
A picnic area and comfort station are adjacent to the main parking area. Visitors can explore the 661 acre park by way of ten miles of nature trails.


Did You Know?

Although Albert Gallatin was an ardent abolitionist, he did buy a slave in Virginia by the name of Charlotte Smith. As he was negotiating her purchase, he was also working with a lawyer on the legal act of manumission to change her slavery to an indenture.