Gallatin House closed Tuesdays, Wednesdays, and Thursdays

The Gallatin House Visitor Center will be closed Tuesdays, Wednesdays, and Thursdays through May 8 2014. The house is open 9 a.m. to 5 p.m. Friday through Monday.
Indoor Activities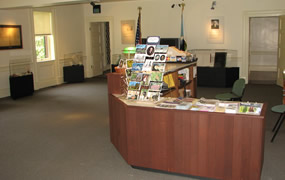 Tour the Gallatin House
Self-guided tour: The portions of the house from the Gallatin era are open to the public. The rooms they contain exhibits and some furnishings relating to the period of Gallatin's life when the addition was built.


Did You Know?

In the 1800 election, Thomas Jefferson and Aaron Burr had equal numbers of Electoral votes. The election then went to the House of Representatives where Albert Gallatin was the Democratic-Republican's leader. Gallatin's influence led to Jefferson's election on the 36th ballot. More...