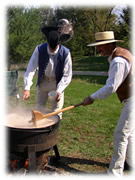 The Perks of Membership
In addition to the satisfaction of assisting the National Park Service in preserving an important part of the nation's history, membership in the Friendship Hill Association includes some social activities throughout the year. FestiFall, the annual celebration of the life and time of Albert Gallatin, is the groups largest event. Period music, dancing and fellowship are part of Christmas social held by the Association for its members each December.
Applications are available at the visitor center desk in the Gallatin House. One can also be sent to you by calling 724-329-2501.