The National Park Service welcomes and encourages support form the private sector to supplement public funds appropriated by Congress. Donations come to the National Park Service from individuals, organizations, foundations, corporations, and businesses purely as expressions of support, in response to the donor's awareness of needs. Whatever the motivation, private sector funds and in-kind contributions enhance the ability of the National Park Service to carry out its programs and activities. The National Park Service recognizes and appreciates this support. National Park Service Director's Order # 21 governs donations and fundraising policy, including requests for information about memorial contributions. These are contributions made to Friendship Hill National Historic Site in memory of an individual.
Monetary Contributions:
The park maintains a general donation account into which donations are deposited. Memorial contributions are established in this account. The donor receives recognition from the park, and an individual establishing a memorial contribution receives a listing of those who contribute. These funds are used at the park superintendent's discretion for interpretive, educational, or research projects. Large donations may be earmarked for specific projects determined mutually by the donor and the park. Direct contributions can be sent to Friendship Hill National Historic Site, c/o Fort Necessity NB, 1 Washington Parkway, Farmington PA 15437. Checks should be made payable to the National Park Service.
Donations of Items:
Friendship Hill National Historic Site accepts donations of goods that support park needs and park programs. These may include such things as items for interpretive exhibits, items for the curatorial collection, or vegetation for the historic landscape. The park service cannot memorialize or name a feature or facility for an individual. Donation of artifacts and historic photos is a common inquiry. The needs of the park museum are defined by a "Scope of Collection." The park cannot guarantee that a donated item will be put on permanent display. Individuals wishing to donate an item should contact the park to ensure that it meets a park need.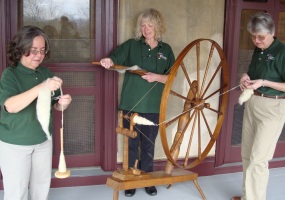 Volunteering:

Friendship Hill NHS has an active volunteer program. Volunteers in the Park - VIPs - help with in all areas of the park. They perform craft demonstrations for visitors, greet people in the Visitor Center, assist in the maintenance of buildings and grounds, work to preserve the museum collections, and do historical and scientific research. If you would like to put your special skills to work helping to preserve and protect Friendship Hill, call Kitty Seifert, the park Volunteer Coordinator, at 724-725-7190, or
send her a message via e-mail
.

The Friendship Hill Association:
The purpose of the Friendship Hill Association is to work in conjunction with and to support the National Park Service and its efforts to preserve and operate Friendship Hill National Historic Site. The group accepts memorial contributions.
For more information, visit their website at http://www.friendshiphillnhs.org/, send them an email, or write to The Friendship Hill Association, PO Box 124, Point Marion, PA 15478
.