Vistor Center Temporarily Relocates to Pearson Air Museum on Sep 15, 2014

The Visitor Center operation will temporarily relocate to Pearson Air Museum, beginning on Monday, September 15, 2014, while the visitor center is rehabilitated. More »
Reservations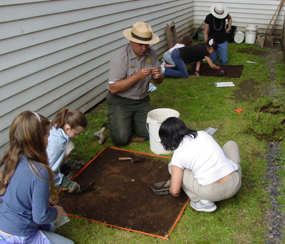 NPS Photo
Reservations
With a plethora of dynamic interpetive activities that change on a daily basis, it is recommended that group leaders call the park in advance (360-816-6230) to find out what activities are scheduled for the day and time of the intended visit, so that the group may plan accordingly.
For school groups interested in reserving an education program, please click here to learn how to Reserve an Education Program.
Generally, reservations are not required to visit the site, unless you plan on a special event or activity. If you would like to do this, then you will need to follow the park's Permit Process to determine if your special event/activity fits within the established guidelines.
Did You Know?
Did you know that a number of U.S. Army generals served at Fort Vancouver NHS's Vancouver Barracks early in their careers? The list includes Generals Oliver O. Howard, George C. Marshall, Ulysses S. Grant, George B. McClellan, Phillip Sheridan, William T. Sherman, Omar Bradley and George Pickett. More...