Weather
Weather
Weather in western North Dakota can be harsh, with extremes in temperature and sudden, violent storms. Be prepared for rapidly changing conditions.
Climate
Summers are warm with average high temperatures in the 80s-90s May through September. Winters are cold with average lows in the single digits December through February. Wind is considerable year-round. Conditions can change quickly.
Travelers should be aware of the potential for violent thunderstorms in the summer and the possibility of blizzard conditions in the winter.


Did You Know?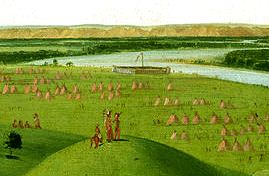 During George Catlin's trip up the Missouri River in 1832 he visited Fort Union Trading Post and the Knife River Indian Villages. On this trip he put to pen the idea which became the inspiration for the National Park System.