Things To Do
Activities available at the fort include:
-Self guided tour of reconstructed fort to explore site
-Bourgeois House/visitor center, museum, bookstore, films
-Reconstructed Trade House, living history programs (Seasonal)
-Junior Trader program for kids
-Bodmer Overlook hiking trail
Fort Union offers special guided tours, period historical dress programs and ranger programs. Please call ahead for tour avalilability.


Did You Know?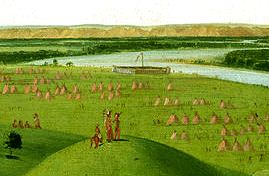 During George Catlin's trip up the Missouri River in 1832 he visited Fort Union Trading Post and the Knife River Indian Villages. On this trip he put to pen the idea which became the inspiration for the National Park System.