Ranger Programs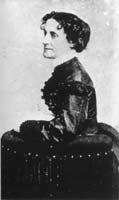 Elizabeth Van Lew was a Richmond Unionist and Abolitionist who spied for the United states government during the Civil War. Leading a network of a dozen or so white and African American men and women, she relayed information on Confederate operations to the Union Army, and assisted in the care and escape of Union prisoners of war. Van Lew who worked with invisible ink and coded messages, has been called "the most skilled, inovative, and successful" of all Civil War era spies.
Ranger Ricca Sarson portrays Elizabeth Van Lew, for local schools and organizations. She can be contacted by calling 202-426-6924 or email at ricca_sarson@nps.gov
---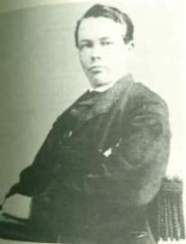 Collection of Michael Robert Patterson
Corporal, James Tanner served in the Civil War and lost both legs due to wounds he received at Second Manassas or Bull Run. He is best known for his eyewitness account of the death of President Abraham Lincoln. Tanner's shorthand notes of Secretary of War Edwin Stanton's investigation and pursuit of John Wilkes Booth is the most comprehensive record of the events of that night. Tanner later served as the National Commander of the Grand Army of the Republic and held government positions in two administrations.
Ranger Jeff Leary portrays Corporal James Tanner, for local schools and organizations. he can be reached by calling 202-426-6924 or e-mail at e-mail us
---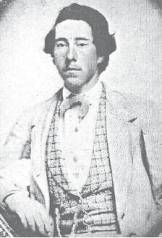 William S. Jett served as a Confederate Private with the 9th Virginia Cavalry under the command of John S. Mosby during part of 1864 and 1865. Following the surrender of Confederate General Robert E. Lee and his Army of Northern Va. to Union General U.S. Grant at Appomattox Court House, Va., Private Jett was ordered back to his hometown unit in Northern Virginia. En-route, while traveling back along the northern bank of the Rappahannock River in King George County, Va. on April 24th, 1865, William Jett by fate encountered John Wilkes Booth (the assassin of President Lincoln) along with his accomplice David Herold. It was Private Jett who ultimately guided J.W. Booth and Herold to the farm of Richard Garrett in Caroline County, Va. located across the river. Less than 48 hours later, in the early morning hours of April 26th, 1865, it was William S. Jett who would then lead Union Troops (the 16th New York Cavalry) to the location where Booth was hiding at the Garrett Farm and, as a result, to Booth's end.

Ranger Eric Martin portrays Confederate Private William S. Jett, for local schools and other organizations. He can be contacted by calling 202 426-6924 or by email at e-mail us


---
Did You Know?

On the night of Lincoln's assassination, John Wilkes Booth planned to have other men assassinate Secretary of State William Seward and Vice President Andrew Johnson. Lewis Powell attacked Seward in his home in Washington. Seward survived. The attack on the Vice President did not take place.