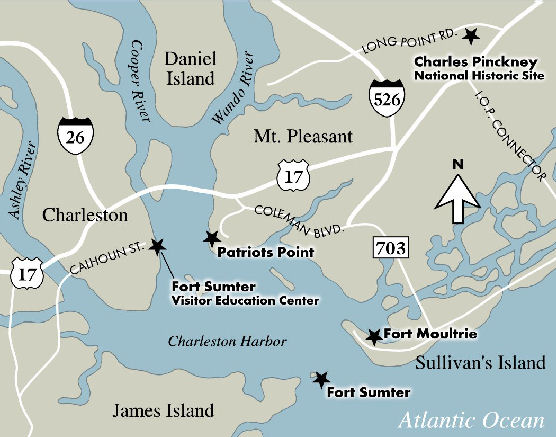 Use the links on the left for directions to Fort Sumter and Fort Moultrie, and for tips on using your GPS to find our sites.
---
NOTICE:
You cannot get to Fort Sumter from Fort Moultrie or Sullivan's Island.
If you're trying to get to Fort Sumter, please do not use the address 1214 Middle Street, Sullivan's Island. This is the park's mailing and the location of Fort Moultrie and the park Headquarters. Fort Sumter is can only be reached by a concessioner-operated tour boat or private boat. For driving directions to all of our other sites, please see the links to the left.
---
Alternative Fuel Vehicles

Do you plan to travel to the park in an alternative fuel vehicle? If so, good for you! Your actions help us reduce greenhouse gas emissions and reduce petroleum use. Plan your trip with the

Alternative Fueling Station Locator from the Department of Energy. Use ZIP code 29482 to find stations nearby.