Accessibility
Tour Boats to Fort Sumter

A ramp system makes access a reality for all who visit Fort Sumter by tour boat from the Fort Sumter Visitor Education Center in downtown Charleston. Even motorized wheelchairs are no longer a barrier.
While this system offers accessibility like never before possible, there may be times when routine maintenance, unexpected repairs or adverse conditions render the system unavailable. To ensure that your visit will be fully accessible, we recommend that you contact the concessioner, Fort Sumter Tours, on the day of your visit at (843) 722-2628.

The ferry departing from Patriots Point may not be fully accessible. However, recent improvements in the dock system have greatly increased their ability to accommodate disabled visitors. If you are planning on taking the Patriots Point ferry, please contact the concessionerFort Sumter Tours, on the day of your visit at (843) 722-2628 with questions regarding accessibility.
---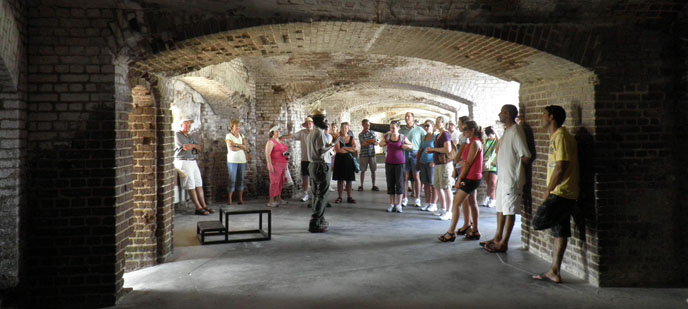 Inside Fort Sumter
While most of Fort Sumter's interior is not accessible, several interpretive wayside exhibits are located on the accessible parade ground and a park interpreter is available to provide a history talk and answer questions. There is also a museum guide available upon request, at the Fort Sumter, featuring all of the museum text, images, quotes, and pictures of artifacts on display in the Fort Sumter museum.

---
Fort Moultrie
A majority of the visitor center and fort are accessible by wheelchair. A wheelchair is available at no cost and can be checked out at the visitor center.
---
Park Headquarters
Park Headquarters is fully accessible.


Did You Know?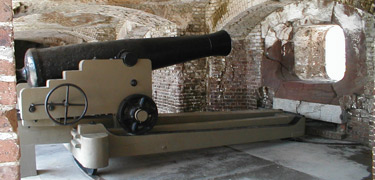 The first Union shot of the Civil War was fired by Captain Abner Doubleday. He was the second senior officer at Fort Sumter, under Major Robert Anderson. Fort Sumter National Monument, SC