No Elevator Serivce at Fort Sumter

The museum, restrooms, bookstore, and top level of Fort Sumter are only accessible by climbing stairs. For more information, visit the link below or please call (843) 883-3123. More »
No Water or Restrooms at Fort Sumter

Due to a break in the Charleston water line supplying Fort Sumter, restrooms and drinking water are not available at the fort. Please bring drinking water with you if you plan to visit. Water and restrooms are available aboard the ferries.
Fort Sumter Visitor Education Center Exhibit
When the Civil War finally exploded in Charleston Harbor, it was the result of a half-century of growing sectionalism. Escalating crises over property rights, human rights, states rights and constitutional rights divided the country as it expanded westward. Underlying all the economic, social and political rhetoric was the volatile question of slavery. Because its economic life had long depended on enslaved labor, South Carolina was the first state to secede when this way of life was threatened. Confederate forces fired the first shot in South Carolina, and the federal government responded with force. Decades of compromise were over, and the very nature of the Union was at stake. Please take time to read the text of the exhibit that appears at the Fort Sumter Visitor Education Center at Liberty Square for more information on the events leading up to the first shots at Fort Sumter.
For more information:
Fort Sumter Visitor Education Center Exhibit Text (pdf, 252 KB)


Did You Know?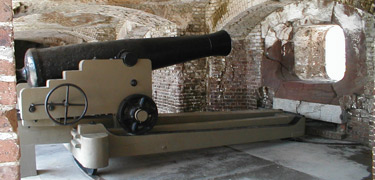 The first Union shot of the Civil War was fired by Captain Abner Doubleday. He was the second senior officer at Fort Sumter, under Major Robert Anderson. Fort Sumter National Monument, SC