Plan Your Visit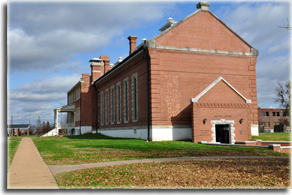 NPS FOSM
A visit to the Fort Smith National Historic Site begins at the Visitor Center, located in the former barracks/ courthouse/ jail buildings. Plan on spending at least 45 minutes touring the exhibits on the military, Trail of Tears, and the federal court, including two jails and the courtroom of Judge Parker.
On the grounds of the park you can see the site of the first fort, the Trail of Tears Overlook on the Arkansas River, the Commissary building, and reconstructed gallows. Paved, handicap accessible paths makes walking to the sites easy, but plan on spending up to an hour to tour the grounds of the park.
To learn more about the things to see at Fort Smith National Historic Site, click here.


Did You Know?

A woman was responsible for the building of a modern federal jail at Fort Smith, AR, in 1888. Anna Dawes, daughter of Sen. Dawes of MA, visited the "Hell on the Border" jail in 1885 and wrote an article describing its conditions. When read in Congress, money was quickly approved for a new jail.